Return to Page 1
Return to Page 2
Return to Page 4
Return to Page 5


Dave and his Dad at an AFL-CIO Labor Day Picnic in LA circa 1995. "My dad had been an organizer for The Steelworker's Union ever since the late forties and Phil and I were asked to put together a blues jam band for the occasion by some of the local AFL-CIO folks. It was the last time he saw either one of us perform. He said we didn't embarrass him too bad. The photo was taken by JLR."


From "deep in the archives," Dave at ~15 and Phil around 18 "altough looking twice as old - in the good sense" along with "John Bazz at nineteen (dig the hair!), and me at fifteen or sixteen (speaking of hair!) along with our eternal hero Big Joe Turner and his cousin, Hoppy Hopkins (who was also Lightnin' Hopkin's cousin - the blues world is a small world indeed). It was taken in the street after Phil's band (The Nightshift) backed up Big Joe at Rick's Blues Bar in Venice California. This would be 1972 or early 73. I don't know or remember who a couple of the other guys were but several of our old pals are in the shot, Tom Hale (at the far right), Danny Riley (with the wild hair) and, especially, the late Mike Kennedy (the guy holding the bass guitar). Mike was the first bass player for The Blasters before we really started playing gigs. He quit because he thought we wouldn't get anywhere playing the type of music we played. He still may be right."


Dave with Mr. Lee Allen and "guitar god" Otis Rush. "This was taken in 1983 at a basement bar in Calgary across the street from the stockyards. An impromptu after hours jam happened when Otis and Dr. John headed over to this bar after their gig and The Blasters headed there after our gig across town. I remember Otis taking a magnificent guitar solo then he turned to me and said, `Okay, you take it!` I just looked at him and said, `Are you kidding?!?! No way, man!` He thought it was funny but I was scared to death. A couple of songs later I finally took a timid little solo. Otis Rush probably won't remember the jam or me but I'll never forget that night."


Dave "yelling at Phil" on stage with the Blasters. "Ah, sweet memories! This one was taken by a nice, patient woman named Shosanna Gizzi."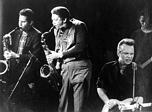 The classic Blasters: " the always dapper Steve Berlin, the always cool Lee Allen, the always handsome John Bazz and the always sweaty DA."


The Blasters backstage in Portland Oregon around 1984. "I like it because we look sort of relaxed, something we usually weren't in front of cameras."


Dave with Lee Allen, Betty Miller (former head of the SoCal Blue Society) and "a pale, smiling Hollywood Fats. The photo was taken at a Hollywood Fats band gig in 1987 at The Music Machine in LA. I had left The Blasters and Fats (my favorite white blues guitarist) had taken my place in the band (which is kind of like having Michelangleo taking over for Grandma Moses). The show that night was a rare reunion gig of Fats' solo blues band. He played better than I'd ever heard him play before. Not to sound too corny but he played as if he never play again. Unfortunately, he never did. He died sometime in the early morning hours after the gig. He was one of the greats."


Dave with X/Knitter pal, John Doe. " I think we might have had a couple beers. What do you think?"


Dave and the Guilty Men at the Roxy in August, 2000. "For the encore I invited our opening acts, Robbie Fulks and Los Straightjacket's, to join us for Marie Marie. Left to right (I think) are Rick Shea, Robbie Fulks, Eddie Angel (Los Straightjackets), me, Danny Amisch (Los Straightjackets), Chris Gaffney on accordion, Brantley Kearns on fiddle, Gregory Boaz, John "Juke" Logan on harmonica, and Joe Terry. I only wish we could see Bobby Lloyd. It was a big, loud, glorious, rockin' thang! Kurt Mahoney took the shot."