Dave Alvin Reviews
---
DAVE ALVIN | PUBLIC DOMAIN: SONGS FROM THE WILD LAND
Hightone/Sonic Rendezvous
"Most of the songs on this CD I found collecting old records with my brother Phil when we were barely in our teens. We searched thrift stores and junk stores, attics and swap meets to find old blues, r&b or country 78s and 45s, or any long out of print reissue album on obscure labels. We were just looking for something that excited us more than the bulk of what was on radio. Little did we know that we were discovering America's folk music." Step right up, step right up... Former Blaster Dave Alvin is about to take you, the listener, on a trip deep into the American consciousness. Folk ballads, blues laments, gospel spirituals, and mountain music - They're all here on 'Public Domain', a collection of 15 songs (plus the obligatory hidden track) unlikely to be bettered anytime soon. "Public Domain" means that the songs aren't subject to copyright laws, are no longer the property of the original writer (in cases where the writer is even known). Alvin: "They belong to nobody. They belong to all of us." And indeed the tracks here are often well-known chestnuts, deeply ingrained into the American psyche and softly swaying signposts alongside the collective human highway. 'Shenandoah', opening the record, lets the listener know that this is going to be quite a rewarding journey. Sounding simply timeless and wondrously beautiful, 'Public Domain' offers up gems such as 'What Did the Deep Sea Say', a rollicking song, supposedly sung by Cisco Houston and Woody Guthrie when they'd been drinking a little too much, 'Delia' (An alternate version is better known as 'Delia's Gone', as performed by Johnny Cash on his 'American Recordings' album), and 'Walk Right In', a swaggering yee-haw good time raunch for all. Backed by his usual road band the Guilty Men, along with a few guests (among them the multi-talented Greg Leisz), the musicianship and sound on this album is simply fantastic. Guitars, mandolin, piano,organ, accordion, harmonium, harmonica, and fiddle all brew up a heady melange of pure joy and sophistication. According to Dave Alvin, "our folk songs live in the wild land of our heart." If that's true, then 'Public Domain' is riding down the coronary bypass straight to the soul.
ALEX TOBIN
KINDAMUZIK
published 15 Jan 2001
---
Dave Alvin Report: review, Johnny D's Somerville Show, Wed 25 October 2000
Met Dave and the boys last night at Johnny D's in Somerville, Mass...
it was a late night, a smoky night, curling around you like a lazy cat. My friend Katie and I weasled our way to the front of the standing crowd, behind the chairs( now how can you sit still at a show like that?!) grabbed some beers and grooved away to a nightful of pure Dave blues. I have to admit the crowd was a bit more staid than other gigs I've attended due to all the table seating, but hey, that's okay, they were still happy- esp. when you think back to being crushed against the stage at the Palace in the eighties when I first started my charmin' charm necklace a la Dave- lookin' around, the room was full of smiles.
Rick Shea fooled around splendidly on the mandolin (?) and sang for us, too- Brantley Kearns (did ya know he did something musically with Eminem?!) fiddled and got us all toe-tappin', Joe Terry (what a charmer!) rocked the ivories (and wrote on my CD: `` I was great!'' too funny). And yes, Chris Gaffney got up from hawking the tunes to sing to everyone's delight. What a night.
But once again it was our man Dave (Hey, I can say that, can't I, he's in the Public Domain now...!) who personified and epitomized cool, embodied the blues and roots of rock and roll, cut loose and then pulled back, makin' love to that guitar with his smoky tunes and unforgettable voice so we all felt he was singin' straight to us (esp. the gals). Whether it was a soft and sexy Mary Brown, a rockin' Marie Marie (ah! he heard me call it out. Thanks, Dave) or a sing-along like What Did the Deep Say, no one walked out of there unsatisfied. More highlights: Blue Wing, Every Night About This Time. Hey, they all even hung around for us diehards, signing CD's and sharing a beer and a tale or two.
Those are the best gigs. There's just something about our man Dave- the voice that carries the essence of all that is American music, its past and its present, a voice that stirs you and seduces you and sticks around the next day like a lipstick note on the mirror from a one-night glance, or a card you find the next day in your wallet, and you smile, remembering the fun of it all.
Thanks, Dave and the boys, it was a swell night.
---
The Knitters Reunite - Welcome Back To Critterville
The Knitters are a country side project formed in 1983, by then- Blaster Dave Alvin, and members of the L.A. punk band X. It was a means to play their favorite country songs and just have fun. The name of the band was a take off of a popular 1960's folk group called The Weavers. The Knitters released their only full length album in 1985, Poor Little Critter On The Road (Slash records). In 1986, Dave left the Blasters to join X. Since the Knitters were made up of Dave Alvin and members of X, it was no longer a side project so they used the name X. Dave went on to a solo career and in 1991 the Knitters did a reunion tour for fun. Now here in 1999, it took a friend of the band in need, to bring the Knitters together once again.

From the early eighties start of the band, fun was always the main ingredient that brought the band together to perform. Dave Alvin remembers how it originally came together: "The Knitters were kind of an excuse for John (Doe) and Exene (Cervenka) to get out of their role in X, and it was a way for me, to put it bluntly, to get drunk, have some fun, and really play together. We became really good friends. The first couple of gigs we played were benefits. It was just me, John, and Exene. By the next gig we added D.J. (Bonebrake) on drums (from X), then Jonny Ray (Bartel) on upright bass (known from the Red Devils). We started taking it a little more seriously, just a little." The classic album Poor Little Critter On the Road was released containing five original songs, which sit perfectly along side the classic cover songs that the band based their theme on. Dave remembers the events leading to the dissolving of the Knitters name and the early eighties Blasters: "The night that Gene (Taylor) left the Blasters was this gig in Montreal (Nov. 1985), and it was maybe the worst gig that I ever played. It was obvious that this wasn't working anymore. That night I decided, 'I'm quitting.' Everybody was so pissed off at each other in the Blasters. I flew to New York the next morning to do a Knitters gig at Irving Plaza. When I got to the gig, John said, 'Billy (Zoom) is leaving the band (X), do you want to join?' I said, 'Yeah!!' without hesitation. Once I became a member of X, the Knitters became X."

Knitter bassist Jonny Ray Bartel was left out in the cold of this merger. John Doe was the bass player in X, leaving no room for Bartel. Dave would later leave X in 1986 for a solo career, as X continued on. Five years later the Knitters would reform for a series of sold-out reunion shows just for fun. In 1999, a close friend of the band, Annie Whiteside lost her San Francisco apartment when it burned down. The Knitters jumped at the chance to help her with a pair of benefit shows. It was a timely gathering to also celebrate the release of a Knitters tribute album put out by Bloodshot records called Poor Little Knitter on the Road. Some artists on the disc include: Whiskeytown, Old 97's (with John Doe), Robbie Fulks, as well as the previously unreleased Knitters track, WHY DON'T WE TRY ANYMORE? Exene joked about the first time she heard that Bloodshot was putting out the tribute, "I heard they were doing this tribute to the Knitters. So, I said to Bloodshot, 'Do you think that is a good idea?' Do any of these bands know we didn't write these songs?" So in effect the album is a tribute to a tribute.

September 13 & 14, 1999, San Francisco at Slims. - Country band Red Meat opened the show. The crowd enjoyed their set. They were fun, feeling the Knitters mood. The excitement in the crowd kept building through their set. People were hungry for The Knitters' music, asking each other, "How many years has it been since The Knitters have played together?" Even the SF Bay Guardian newspaper noted in their Critic's Choice column: "Get your ass down to Slim's to see the Knitters...How often do 'side projects' reunite? This is a one-off reunion not to be missed."

The curtain rose to the Knitters tradition of starting with a pair of ballads, from a duo of Dave on electric guitar, and John Doe on acoustic and vocal. They played Merle Haggard's SILVER WINGS then the Knitters original CRYIN' BUT MY TEARS ARE FAR AWAY. The crowd was excited but really came alive when suddenly, John leaned way back and yelled out: "Heeeeeeey Knitters!!" The hungry crowd went crazy again, as the rest of the band walked onto the stage; Jonny Ray with his upright bass, D.J. on a single snare drum, and Exene on vocals. The audience was very interactive with the Knitters. One exuberant fan observed Exene and John Doe wearing glittery makeup and shouted, "John, you're all sparkly!" John turned a megawatt grin towards him and quietly said, "But of course I'm sparkly, my friend."

Exene playfully asked the audience for song requests, then said, "I know! Dave has an idea!" and he started the infectious guitar riff at the beginning of POOR LITTLE CRITTER ON THE ROAD. The band played all 12 songs from the Knitters album, as well as some songs only heard at live Knitters shows. -- A Joe and Eddie song called LONG TRAIN HOME, The Stanley Brothers RANK STRANGER, Tennessee Ernie Ford's TENNESSEE BORDER, and the X songs FT. LAUDERDALE, I MUST NOT THINK BAD THOUGHTS, and BURNING HOUSE OF LOVE. The second night they finished with an extra song - Woody Guthrie's SO LONG.

It was a fun, relaxed show, and there was real camaraderie between the band and the audience, most of whom were X fans. John and Exene engaged in some witty ad-libbing between songs, and John professed that the band didn't know many songs. He said that we, the audience, would have to put up with a show that was only eighty percent good. Early on, Exene told the audience exactly what the Knitters' ethic was: "The Knitters are all about doin' other people's old songs. Songs that people haven't heard before. Then you can go back and find the original one."

It was obvious, by looking at the audience, that everybody was grinning with the feeling they were experiencing a unique event. Dave's playing was incredible - from tender and delicate, to raunchy and sizzling. He whipped up the crowd, and inspired cheers and calls -- "PLAY IT DAVE!" like I've never seen before. The other Knitters kept turning towards him, trying to watch him play - as he was the catalyst with his '64 Strat in hand.

There were some choreographed parts - during ROCK ISLAND LINE, where John's intro recitation goes, "I got goats, I got pigs, I got pot-bellied pigs, I got kitty cats..." Meanwhile D.J.kept reaching into a big trunk on stage, pulling out a succession of little critters and squeak toys, to illustrate who they had room for on the train in the story of the ROCK ISLAND LINE. At other points John or Exene would say,"We'll do another cover song by this other band..," The crowd would laugh and cheer, knowing it was another "X" song. John introduced BURNING HOUSE OF LOVE, saying how much he wished June and Johnny Cash would cover the song. He said, "If this one thing were to happen - I could just die." then quipped, "Which I will eventually." They played two encores, until finally John said, "This is PROOF that this is all (the songs) we know." Amid much laughter, they played POOR LITTLE CRITTER ON THE ROAD again. The perfect finish.

Yeah, the "SF Bay Guardian" newspaper was right - Knitters shows are NOT to be missed. Dave later recalled the fun and lack of pressure playing with the Knitters, "We had a lot of fun. We raised a lot of money for our friend. We did a few songs that weren't on the original record. The nice thing about the Knitters for me is, I don't have to worry about anything. I just show up, and play guitar." Some people asked since Dave has such a successful solo career, 'Would he sing a song or two for the Knitters?' Dave had an easy answer, "I didn't feel like singing because the character I played in the Knitters didn't sing. So why screw with the illusion now."

The Knitters had so much fun, they decided to do a tour together of the West Coast planned for December of 1999. Don't miss it! Knitters Discography: The Radio Tokyo Tapes Compilation LP-1 track medley of HONKY TONK ANGELS and WILD SIDE OF LIFE (Enigma records). Poor Little Critter On The Road 1985 LP (available on CD) (Slash Records), Poor Little Knitter On The Road 1999 (Bloodshot) 1 track. Thanks go to the California girls, Anita and Holly, who lent their accounts of the Knitter experience to the writing of this story.
Submitted by Billy
---
Knitters Set List: House of Blues 11-13-99

silver wings
cryin but my tears are far away
poor little critter on the road
long chain on
baby out of jail
the have-nots
poor old heartsick me
the trail of time
the new world
rank stranger
walkin' cane
surprise,surprise
achy-breaky heart (dave on vocal while john & exene did a line dance!)
i must not think bad thoughts
wreckin' ball

encore 1

someone like you
love shack
rock island line

encore 2

tennessee border
burning house of love
ft. lauderdale

encore 3

so long,it's been good to know ya
born to be wild (yes, by steppenwolf)

---
Review of 11/13/99 House of Blues Show
HOLLYWOOD (Variety) - It would seem that every band that ever filled a venue in the 1980s has made, or will eventually make, a reappearance. Saturday night was the Knitters' turn.

Originally a spinoff from X and the Blasters, a pair of bands on the Slash label, the Knitters were a quieter, gentler version of those groups, pairing X's John Doe and Exene with Blasters songwriter (and occasional X guitarist) Dave Alvin, who, in fact, contributed X's most successful radio song, ``4th of July.'' Add X drummer D.J. Bonebrake and Red Devils bassist Johnny Ray, and you have the Knitters.

At the peak of the act's underground popularity, the mid-'80s, Slash released ``Poor Little Critter in the Road,'' which explains the post-punk, post-35 audience that sold out the House of Blues.

Folksy, rootsy and backed by Bonebrake on snare drum and Ray on standup bass, the Knitters turned the HOB concert into a hootenanny of sorts. Doe and Alvin came out first, playing ``Silver Wings'' and ``Crying But My Tears Are Far Away'' as a duo, before Exene and the rhythm section joined them for the title song of their only disc.

They stuck entirely to that record, except for a smattering of redone X numbers like ``Surprise Surprise,'' ``I Must Not Think Bad Thoughts'' and ``The Have Nots.'' In fine voice and with Alvin a thoroughly accomplished player, the Knitters were that rarest of acts: traditional, but not stunted or stiff. They acknowledged as much by suggesting a ``square-dance'' pit instead of a mosh pit, and then informed the audience that they were ``aware of what was going on now'' by breaking into ``Achy Breaky Heart'' and line dancing. (Guess no one told them ``Achy Breaky Heart'' is a golden oldie in 1999).

Finishing their set with a rousing and silly song about chicken farming called ``Wrecking Ball,'' the Knitters returned to play a three-song encore climaxing in the folk standard ``Rock Island Line.'' With the song's accelerating tempo and folk at a punk pace, the Knitters truly hit their mark as a curiosity from a different time when genres in music weren't so cleanly delineated. This is welcome. If they want to come back to stay, there will always be a place for the Knitters.
By John Carmen (Reuters)
---
Dave in Des Moines Iowa, 1999
Last Thursday evening Dave and the band played here in Des Moines outside at the Simon Estes Pavilion near the river. Musician Steve Forbert opened for Dave and was really good. What surprised me was how many people actually came to see Steve and didn't even know who Dave Alvin was! I showed up three hours early and watched the band set up onstage. I wish I could have been down there listening to the conversation!! After they let us in, Dave was standing behind the stage and I decided to go and seek an autograph. Being an illustrator, I had done a pen and ink drawing of Dave based on the inside photo of Blackjack David. After another person got his CD signed, I walked up and said that I too was an autograph hound and please, oh please could I get an autograph. He smiled and said sure. I said that I was an artist too but of a different sort and gave him the drawing. Dave was surprised was and genuinely thanked me for it. After he gave me back my CD, I saw that he had written "Thanks for the drawing, but I ain't that pretty!" and had drawn a cigarette hanging from his mouth on the CD cover with smoke coming from it. :)

The show was simply amazing and Dave and crew played all the songs we've come to love. The coolest part was towards the end they played American Music and lapsed into Cowboy's Girl (I think the title is) and from the side of the stage came Chris Gaffney! After that, Dave called Steve Forbert back to the stage and they played a blues version of Promised Land with Forbert on lead vocals.

After the show I went around and got the rest of the band to sign my CD. All of them were great and very appreciative of the compliments I paid to them. I told Joe Terry that I thought he was the best keyboardist I had ever heard and he said, "I am not!" I retorted with an "Are too! You are great!!" He thanked me and signed my CD "I was great!" :)

I've read stories on this site about how classy and nice Dave Alvin and the guys are but Thursday night proved it for me. This was the second time I saw them perform and it definitely won't be the last!!!
---
28 Aug 99: Dave Alvin in Las Vegas
I was lucky enough to catch Dave and his Guilty Men on Saturday, the 28th, at the Las Vegas Goverment Center, here in Vegas. What a great, satisfying show! Dave Alvin is a true American classic! I am still humming and singing his King of California. Being a big-time John Stewart fan, Dave sent chills all along my spine as he sang and played, reminding me of the beautiful folklore and memorable melodies that he and Stewart capture in their Golden State passions. I thought the highlight of this show was 30 Dollar Room, it really took off and mesmorized the audience under the warm, starry desert darkness. The band was exceptional and looked like they were having fun. Won't be soon enough 'til I can see them all again.

THANKS, Dave ! God Bless.
---
St Louis Post-Dispatch
Originally published on Friday, August 30, 1991.
By Steve Pick COLUMN
DURING their short, critically acclaimed heyday, the Blasters were unfairly typecast as a rockabilly revival band.

Coming along at about the same time as the Stray Cats, the Rockats, and half a dozen other young bands who thought rock 'n' roll died in 1956, the Blasters did indeed play rockabilly. But they also played New Orleans-style R&B, country, gospel, blues and virtually any other musical form indigenous to the United States.

After the Blasters broke up, and many new bands began working in similar territory, rock critics invented a label that described what the Blasters did: roots rock.

Their fascination with and aptitude for old forms may have caused the excitement, but I always liked the Blasters for the high quality of their songwriting. The band had been formed by singer and rhythm guitarist Phil Alvin, but his younger brother Dave provided the songs. Right from the beginning, he was writing classics.

''Marie Marie'' burst out of their first album. Actually, there were two debuts for the Blasters, one on a label so tiny that it has almost never been seen outside of Los Angeles and the other a year later on Slash Records. Both contained ''Marie Marie,'' and it jumped right onto the set lists of every cover band with any ears at all. There weren't many better songs written in the '80s, though for their second album, the Blasters came close with ''Long White Cadillac.''

All good things must come to an end, and apparently some form of sibling rivalry led Dave Alvin to leave the Blasters five or six years ago. Phil tried to carry on the group, and briefly led it to even greater heights when he recruited a fantastic guitar player, Hollywood Fats, to rev up Dave's songs.

This version of the Blasters played one of the greatest rock 'n' roll shows in my memory when it appeared at Westport Playhouse. Less than six months later, Fats was dead. Phil has not disbanded the group, but it rarely plays outside Los Angeles anymore.

Meanwhile, Dave Alvin teamed briefly with his friends in another Los Angeles band, X, which had just lost Billy Zoom, the cheerful guitarist whose single-minded devotion to riffs had practically defined the band's sound.

Alvin contributed 4th of July, a song every bit as good as anything he or X had ever written, and then moved on again, recording a spotty but impassioned solo album, Romeo's Escape (including his own version of ''4th of July''). It dropped into the cutout bins in 1987 almost as soon as he began to tour.

Luckily, songwriters as talented as Dave Alvin do get another chance once in a while, and he has finally returned with a follow-up album, Blue Blvd, on Hightone Records. His singing, which dragged down parts of Romeo's Escape, has improved tremendously (he no longer feels the need to bellow throughout the uptempo numbers), and he has assembled the most consistently well-written songs of his career.

In fact, I'm ready to put ''Gospel Night'' up there with ''Marie Marie,'' ''Long White Cadillac'' and ''4th of July'' as one of Alvin's masterpieces. After a lovely piano introduction, Alvin's somewhat gruff voice enters to set the scene of a husband and wife in the throes of non-communication. A radio is on in the background, playing a religious station, and the song's narrarator begins using its message of redemption as a way of bringing love back to the relationship.

Underneath Alvin, Bobby King and Terry Evans harmonize sweetly, evoking both the sound of the gospel music on the radio and the love that this couple is about to revive. The chorus line, ''Let's try believing again,'' is delivered to chilling effect, as Alvin cries it out and King and Evans echo him.

By the end, as the music turns to a rollicking, bluesy piano-led section, Alvin has achieved one of the most difficult things in pop music. He's made a record that ends happily without even the slightest hint of sugar coating.

The album has many other fine moments, if less happy ones. Check out ''Haley's Comet,'' co-written with the great Tom Russell, in which they delineate the unhappy end of rock 'n' roller Bill Haley; ''Why Did She Stay With Him,'' which tells a very sad story about confusing love with sympathy, and what happens when sex gets in the middle of both, all set to a gorgeous tune; ''Plastic Rose,'' a jazzy number in which Alvin picks out small, painful details that lead to a painful conclusion; the exciting rockabilly of ''Wanda and Duane,'' which musically crosses Chuck Berry and Jerry Lee Lewis; and ''Andersonville,'' a harrowing song that describes the enormous hardships faced by Yankee prisoners in a Confederate prisoner-of-war camp during the Civil War.

As a vocalist, Alvin has imperfections, but he's certainly able to let out the emotions inherent in his songs. And he brings on plenty of guest stars to handle background vocals - Steve Young, Dwight Yoakam, David Hidalgo, Katy Moffatt, King and Evans.

His band is solid, if unspectacular, backing Alvin up and catching fire when the song requires it. Alvin shares lead guitar duties with Greg Leisz; they are both melodic, emotive players. Everything works together to dress these wonderful songs in the best clothes possible. As a result, Blue Blvd is a terrific record.
---
Clearwater, Florida, 7 March 1999
I had stopped going out to hear "live" music. Not hard to figure. I REALLY love music. I mean I love REALLY good music. I'm sure alot of it was due to the fact that no one has come thru here lately that was worth my time. Very few acts could get me to come out......Chris Gaffney, Tom Waits, The Skeletons..but THEY never come around. Would I come out for Dave Alvin?? Sure. It did take a good kick in the butt from my wife, however, to bring this about and I thank her. She also thanks me for turning her onto Dave.
I was so nervous about getting bad seats that we arrived 2 hours early. That really worked out ok as we heard soundchecks from both Dave and opening act Robbie Fulks. We got great seats by the way. Ok. Two hours early. Drinks. Meet new friends. Lots of chatter. More drnks. Time did pass quickly and I wasn't even pissed that Robbie got started about 40 minutes late. Two more over here please! Robbie Fulks was great. I've followed Robbie for about 3 years, and 3 recordings. He's a smartass of the finest order. Half his set was solo and the other half was with Dave's band. The music was fine but the voice mics were bad ... no one could understand the words..a shame when listening to someone who is either satirical, like Robbie, or absolutely poetic, like Dave. Fulks performed songs from all 3 of his releases but 2 songs, neither of which he's recorded, stood out. His version of The Hollies "Carousel" was a foot stompin' hoot and, his cover of Leon Payne's "Selfishness in Man" was dedicated to George Jones who, just days before, was seriously injured in a car accident. The Dr. recommends that you look into Robbie's recordings. Thank you Robbie.
OK. Where's Dave??? More drinks! Here comes Dave. Dave Alvin. Blasters. Brother of Phil.Blaster. Memeber of "X". Blaster. I've been a Blaster fan since 1983. Sold my soul 10 years ago for a copy of their Rollin' Rock Lp. Dave Alvin. Producer. Author. Pleasure Baron. Guitar God. Ok Dave, make this whole evening "worth" leaving the barcolounger! Help me make my wife think that I KNOW a great musician when I get off my fanny to see one. Make this whole crowd forget that you were a Blaster. Show them thru music and lyric (ah, those mics!!!) why you left brother Phil and the boys. Dave Alvin, on his own terms, is a certfied genius. He did all I asked and more as he kept my foot tapping and me smiling for 90 minutes. No roster of songs here, although I wrote them all down. The "washed" know what was played. The band, Bobby, Joe, Greg and Rick,Just kick ass. What a great combination of Dave and that group. When it was over I was tired, buzzed, deaf and thrilled.
If you like good, thoughtful music. and a great live show, go see Dave Alvin if he comes within 100 miles of your home. Some of us old Blaster fans knew that he was a great guitarist but I'm sure that may did'nt realize that his is the name in parentheses under the titles of some of the finest music of the last 20 years, Blasters and his solo work.
I had stopped going out to hear "live" music. All that next day I raved bout Dave, Robbie, the whole evening, to anyone who would listen. My temporary hearing loss, a long lost friend, won't be staying away so long. Thanks Dave.
Submitted by Dr. Mad
---
I guess you can call this a review, (from someone not very important) I just wanted to say, I saw Dave Alvin for the first time ever last Friday night at a place called the Gyspy Tea Room in Deep Ellum (Dallas)and was completely blown away, now i'm not to good with words but, for a little over two hours I stood at the front of the stage in a trance, I mean with my mouth wide open, saying to myself "holy shit, this guys fuckin' great" my wife after the show said she was watching me throughout the show, all glossy eyed with mouth open so thats how I know I was taken back. The blasters covers we're cool, but the songs from Black Jack David we're the best part for me, now i've only had the CD for a little over a month, but it's my opinon that Black Jack David is the best record released in the past ten years, don't you agree?

Anyway, after the show, I just had to get my "BJD" CD signed, oh, and my "blasters collection" cd too, so, two by two Dave had everyone who was wating to see him come backstage for pictures, autographs, whatever!, It was so great, he singed one cd, than another, then we took a picture, (flash didn't go off) took another picture, well I can go on and on about how great of a person Dave is, but I think you'd have to go to a show and see for yourself. to me, it was worth every penny.

Dave, hurry back to Dallas!!!!!!!!!!!!!!!!
---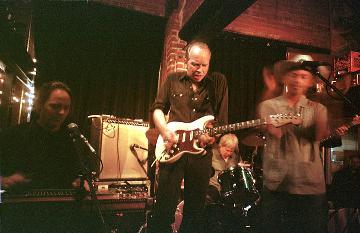 Click on image for larger version.

Last Friday I saw Dave in concert at an very small club in Arlington VA called Iota. There are no seats at Iota. Seats? We don't need no stinkin seats! My friend BB and I got there at 6:15 for a 10:30 show, and got the best-located stools at the bar. Surprisingly good burgers (w/blue cheese and applewood bacon - there goes my heart), shrimp and fries helped the time to go by - and lotsa beer helped too. Dave did a nonstop two hours and fifteen minutes of the finest guitar/storytelling I have ever heard. It was a late late nite but well worth the cigaret hangover I suffered next morning (and i don't smoke!) and the pain in my bum knee from so much dancing and toe-tapping.

I have got a photo (see above) of Dave and band, made with a point and shoot, flash turned off, with 800asa film. The picture shows Dave soloing on a segue into the Temptations' "just my imagination" during a "soul" medley that included "cowboys to girls" (cowboys to girls/shoot 'em up/bang bang, baby) and War's "all day music", where the crowd, led by yours truly, was singing harmony to guest vocalist Chris Gaffney. Truly awesome show. Dave was plugged into his Strat from start to finish. B.D., can I get a tape of this? I asked Dave if he would play "Guilty Man" from Blue Blvd. He said "I gotta be feeling really foul to pay that." I weaseled my way to the front (just like the old dayz!) halfway thru the gig. I watched the first half sitting on top of the bar, so's I could see over people's heads. It's a wonder the bar didn't collapse when 240lb brad also sat on it! Place was packed. Two groupies were screaming requests at Alvin during the songs and he kept yelling at them "I thought I tole yew to git back in the trailer" Best ten dollars I ever spent.
---
Caught Dave at Iota in Arlington Va on Friday Feb. 26th. What a smokin' show! But then again, it was my first time seeing Dave so I really can't compare it to any of his other shows. I've come to Dave sort of late, and by way of the X connection, which I'm sure has been the way for plenty of folks. But once I got my first cd, (Interstate City) it took me all of 2 weeks to get all of the rest. I've since bought three copies of King of California just to give away, and a copuple of Blackjack for the same reason.

The first thing that surprised me was the size of the venue. This place was tiny! 300 people max! Now I've gotten the idea from this page that Dave plays lots of small bars out west, and I figure that's by choice. But this guy is one of the real true fucking genius' of American music! He is a national treasure! Somebody has to figure out a way to get him in front of more people! I mean, c'mon! Big Bad Vodoo Daddy is playing the Super Bowl for Christ's sake, and there isn't one guy in that band that could carry Dave's beer to the stage for him! What Is The Gig??? Sorry, I digress...

He played fantastic. From the first song you could tell that he was cookin'. I know he is a great quitar player. But for me it is his songwriting that puts him at the top of just about everyone currently performing in America today. But on this night it was his guitar playing that just blew me away!!! It is a real testament to the man's songwriting that it could actually overshadow what an incredible guitarist he is! He played just about everything that I could have hoped for ( with the exception of the Jubilee Train Medley and Every Night About This Time). Since just about everything was a highlight it is hard to pick out a couple of special ones, but Abiline was a monster, as was Wanda and Duane and the two from American Music, Marie Marie and American Music. 4th of July was great, but it was almost a relief when he finally played it because it finally shut up the drunk in the back who could scream for nothing else between every song!

There was some great guitar work between Six Nights a Week and $30 Room (I know the 2nd # was $30, but if the first was something else please feel free to correct me, I'm a bit fuzzy on this one...) Chris Gaffney came out for the encore and they did a couple of his songs including Cowboy Way(?) into a great old Motown Classic (I knew the name of it when I left the bar that night), and then Gaffney stayed on and played accordian for a couple of more Dave songs.

Well, as they go, I guess this isn't really much of a review, because I was just thrilled to finally be seeing the Great Dave Alvin! But I have seen plenty of live shows through the years, and this one was way, way up there! The only complaint I had was with the sound system. Plenty loud, and when the band was playing loud it sounded great. But there was an annoying buzz in one of the pa's, and came through loud and clear whenever he tried to do any of the quieter stuff. I hope it was the house's pa, and not Dave's. But hey, it was a small price to pay. A great, great show, and hopefully, the first in a long string of Dave Alvin shows for me. If he is within a couple of hundred miles of Richmond Va. I know I won't miss him.

And Hey Dave! If you're reading these, I'm the guy who shook your hand before the show started and said "Thanks" I just wanted to say it again. Thanks. You are the Fucking King.
Submitted by Tom Bjornsen
---
Sold out show at Arlington Virginia's Iota Club. Cool,small club with great acoustics. I last saw Dave at Greenville South Carolina's Handlebar Club during the Interstate City tour. That will always be one of my favorite shows ever, so Friday's (2/26) show had alot to live up to. In Greenville, Dave played 6-7 songs on acoustic, then shed his leather coat, strapped on the electric and took off. Friday he started electric and never looked back, playing, as he called it, "loud folk music".

I was right in front, looking for a set list, but there was none. Dave was calling the songs out to the band, pointing to the lap steel , the accordian, whatever was appropriate. He opened with "Out in California" and finished approx. 2 hours later with "American Music". In between, sorry I don't have the order, he played:

Abilene
Blackjack David
New Highway
Mary Brown
Laurel Lynn
Museum of Heart
30 Dollar Room (best song of the show I thought)
Dry River
4th of July
Marie Marie
Red Rose
Border Radio

A few others I didn't know. He brought up Chris Gaffney at the end of the show to do some "East la Soul" singing, which his band seemed to have a great time with.

Dave, the gentleman as always, thanked the crowd often and apologized for the songs he didn't get to. For me, that would be "Interstate City" and "a Kitchen Table", but how can you complain when a guy tears the place up with such sincerity and passion. I know I left out some songs he did, but I had no pen and paper. The last time I saw him I remember being impressed by how good a guitar player he was. This time, standing so close, he seems to have gotten even better, shifting from blues to twang to rock to whatever sound he wanted. "30 Dollar Room" he just cooked on.

Sorry this isn't a better organised, or more professional review. All I can say is, if he comes near your town, don't miss him!
Submitted by a random Dave fan (who did not leave his name).
---
Saw Dave at ther Tin Angel in Phila. Feb 25,99 and what a dynamite show. The man just pours it out on stage. Added bonus- Guest appearance by Chris Gaffney. He was selling T shirts for Christ's sake. If they come to your town, DON'T MISS IT.
---
My friend and I waited over a month for Dave Alvin and the Guilty men to play in Columbus, Ohio at Little Brothers. The night was worth the wait!

We arrived at the venue an hour early because we wanted to get good seats. We were watching the sound check through a window. I think Dave was poking fun at us for standing there like a couple of kids. When their set was over we approached the stage and I watched Bobby Lloyd Hicks exit outside. My friend and I followed him hoping he would talk to us. Well, it's around 30 degrees out and here is this poor guy with a wet shirt on trying to put on a dry one while I am praising his performance. You know what? Mr. Hicks treated us absolutely great! He stood out there for ten minutes and talked to us about drumming [yea I'm a drummer]. He then did something that floored me, he invited my friend and myself back stage to Dave's dressing room! We walked in and there he was, larger than life, pacing around the room. He graciously accepted our praise and other assorted bull. I couldn't believe that here I was face to face shaking hands and speaking to THE Dave Alvin! We were also fortunate enough to meet and talk with the rest of Dave's band. It was one of the best nights I've had in the last 43 years. Dave and his band are top notch! Everyone of them we met was kind and informative.

Thank you Bobby Lloyd Hicks for letting us back stage!
Submitted by Jeff Roberts
---
by Billy Davis
OCTOBER 12, 1998 - Dave Alvin, Rick Shea, and Gregory Boaz were driving towards Springfield, MO, to pick up the other half of the Guilty Men in order to start a second U.S club tour in support of his Black Jack David album. Then, Dave's cellphone rang. It turns out that Bob Dylan wanted Dave and the band to open up his Arena tour!! As Dave said "This is f**kin wild!!" Rick Shea was driving at the moment the call came in and remembers, "Dave was sleeping in the back when the phone rang. His main concern was having all those dates to cancel. I said, 'Can you really say 'No' to that!" So it meant canceling a string of club dates on short notice. Bobby Lloyd Hicks said, "That means we gotta piss off about thirty club owners, but hey, it's BOB DYLAN, man!!" What an exciting turn of events for everybody. Two days later, it was made official. They would play 12 concerts with Dylan and Joni Mitchell. The tour would start in Dylan's hometown, Duluth, MN, and move through the midwest through New York state and then down south. The venues were all hockey-sized arenas. In another crazy twist, Dave's producer Greg Leisz, who also is a friend, and former member of the All Nighters, is the steel guitar player in Mitchell's band.

Its speculated that Dylan heard the buzz about Dave's highly proclaimed BlackJack David album and requested him for the tour. Dave has had a sporadic association over the years with Bob that is a shared mutual admiration. It was no secret that Dylan was a big Blasters fan who has asked Dave that annoying question. Which question? Dave picks it up, "The last conversation I had with Bob was in 1990 at a benefit for Roy Orbison. I played with Syd Straw and John Fogerty. I was hanging out on the crew side of the stage, and Dylan came over to talk to me while he was waiting to go onstage with the Byrds. We were talking a lot and he asked what everybody else asks (Dave doing the Dylan imitation): 'Dave. When are you and Phil getting back together?. Man!! That was magic.' "

Dave also recalls the first time he had any contact with Dylan, "I was out on tour with the Knitters (1983). A guy named Charlie Quintana from The Plugz, was playing with Dylan and called me in my hotel room in Sacramento. He said, 'You have to catch a plane. Bob Dylan wants you to record with us.' I said, 'I can't leave my car here.' He said to me, 'You're crazy.' So I couldn't make the session. Later at the first Farm Aid (9/85) Dylan was on the bill. He had finished playing and was sitting on the steps of his trailer with members of his crew. I was drunk enough to go over and talk to him. So, I went over and apologized, 'Sorry I couldn't make that session.' He goes, 'Yeah, you were in Buenos Aires or San Diego or something.' (laughs) and I said, 'Oh Yeah.' Then I told him I thought he was one of the best white blues singers ever. And he said, 'Yeah, I always thought so too.' (laughs) He said, 'Well, we'll get to play one of these days.'"

Eventually, Dave was asked to a session in '86 for Dylan. "I don't think it was my greatest musical contribution to the world. I was in awe of just being in the same room with the guy. I'm still looking for a tape of that session too." These songs were recorded for two Dylan albums called Knocked Out Loaded and Down in the Groove. None of the songs Dave played on were released. "I saw him a few months after the recording session" Dave recalls, "Dylan was playing with Tom Petty at the L.A. Forum. I was with John Doe and Exene and my girlfriend. We were hanging out at this backstage bar, and Dylan's road manager came and brought me backstage. We talked for awhile about Sonny Burgess and stuff like that. It was a wild scene in his dressing room. He's more remote now."

Rick Shea remembers a funny moment when Dave realized that the tour was really going to happen, " My favorite response from anybody about this whole thing was from Dave. He said, 'I gotta get me a new suit.' Instead of, 'I gotta check out my guitar,' or 'We have to rehearse new songs.' (laughs)" Keyboardist Joe Terry thought the most exciting part of the Dylan tour was events of the week leading up to the shows. Joe: "For a week at our club shows, many people seemed to know about the Dylan tour and would ask about it. Once, while a hundred miles outside of Duluth (the first Dylan show for us), we stopped at a store and were asked if we were goin' to the Dylan show. A hundred miles away! Gregory couldn't contain himself and blurted that we were playing for Dylan. At that point we felt a little bit like rock stars. While in Duluth, I woke up early in the morning and stepped outside the hotel into the parking lot to greet the day with a Marlboro. A maintenance man named Joey asked if I was goin' to the show tonight, to which I couldn't contain myself and told him that I was indeed PLAYING the show tonight. Needless to say, I was his best friend for the next day and a half. He also reported to me the next morning, while enjoying another Marlboro (or was it a Kent?), he admitted that he really liked us better than Joni or Bob. He asked if we had any CDs out, to which I said, 'Not yet, but we're hoping to. We were just playing out at the airport lounge when we were asked to join the Dylan tour!' I didn't really say that! He was too nice a guy."

The first concert of the Dylan/Dave Alvin tour in Duluth, MN and the whole band was excited. Dave: "That was the town Dylan was born in, but he never played there before. It was sold out and the audience was just incredible to us." Joni Mitchell wasn't on the bill, so just the two bands played. To accommodate a larger crowd, there was no floor seating, only standing general admission. Dave: "There was open floor dancing, and it was just like playing a rock 'n' roll club. We came out blasting and Dylan came out blasting!" It was a great show to start the tour.

The set list started as OUT IN CALIFORNIA, ABILENE, JUBILEE TRAIN, KING OF CALIFORNIA, 4TH OF JULY, and AMERICAN MUSIC. In later shows they dropped KING OF CALIFORNIA and added BLACKJACK DAVID. In Syracuse they exchanged JUBILEE TRAIN for $30 ROOM and MUSEUM OF HEART. Then the following night in Rochester they tried INTERSTATE CITY in the JUBILEE spot. In Maryland and Atlanta they returned JUBILEE to the set again since that formula seemed to work best. Choosing a set list for 35 minutes took some careful planning as Dave recalls: "I learned real early when the Blasters toured with Queen (1980) that some songs work in arenas, and some don't. Songs where the band plays all the way through, tend not to work in arenas because it just becomes a big sound glob. I had a conversation with Brian May, the guitar player in Queen. He said that, once they started playing arenas, it changed the way they wrote and arranged songs. In arenas, less is more. I chose songs that had breakdowns or just guitar and drums." Songs like 4TH OF JULY, JUBILEE TRAIN, and AMERICAN MUSIC all have sections where the band lowers the volume and either Dave or another member plays to the forefront of the song. In AMERICAN MUSIC, at one of those quiet points, Dave plays the solo from an old blues song called OOKIE DOOKIE STOMP. These subtle changes got the audience's attention. "In AMERICAN MUSIC after OOKIE DOOKIE STOMP, I stopped playing." Explains Dave, "Then I would hit a low E string and let it ring while the band kept vamping. So it was sort of teasing the audience, very much like what Lee Allen used to do on SO LONG BABY GOOD-BYE. He would do the long solos; then he stopped and did the Lee Allen stance. People would really get off on that."

OUT IN CALIFORNIA is a great set starter that has developed as a better song than the original version on the Interstate City album. That and AMERICAN MUSIC were my favorites of the tour. ABILENE and BLACKJACK DAVID are good choices not only as good songs but for promotion for the new CD. In the set, Dave carefully mentioned the CD and the fact that it was available in the building. JUBILEE TRAIN was chosen for its familiarity to folk music fans with its elements of DO RE MI and PROMISED LAND. Even Dylan fans who were not familiar with Dave would easily recognize those folk classics. 4TH OF JULY is well known as Dave's most famous song and AMERICAN MUSIC was a great closer because there is no better way to hit 'em harder.

Drummer Bobby Lloyd Hicks saw the newspaper the next day after that first show and picks up the story: "We got a one-sentence blurb in the paper among three pages of 'Homecoming Bob' articles: It read, 'We sat, Minnesota-polite, through a set by David Alvin and the Guilty Men, a country rockabilly band that played real loud." Bobby and the band gladly accept any kind of review that mentions 'Loud.' So Bobby yells, "PERFECT!" Hicks continues, "After the show, Bob's crew, who couldn't have been nicer to us the entire tour, told us to leave our equipment with them. They put it on one of their trucks and from then on, our stuff was backstage at every venue." Bobby remembers, "We just had to walk in, set it up and they'd put it on and off stage for us. So we got to ditch the trailer (that towed the equipment on the club tour). We all felt a little sad about having to leave her there in the Minnesota cold country, but were glad that we wouldn't have to hassle with her in all the big cities."

Most of Dylan's staff had been with him for the last twenty years. Rich Neeson acted as Dave's tour manager. Rich originally managed the Skeletons and road managed Dave when backed up by the Skeletons on the '91 tour. He has worked with many acts over the years. He first worked as a roadie with The Rolling Thunder Review (famous Dylan tour in the mid-seventies) and later road managed Edie Brickel, when she opened up a Dylan tour in the eighties. It was very helpful in knowing how the Dylan tour crew worked. Bobby: "The third afternoon (at the United Center in Chicago), Rick and I were setting up when Bob's guitarist, Larry Campbell walked by. He stopped and talked and said that he thought we were 'the perfect band for this tour'. I had to agree: We'd go out and rock the joint, Joni would mellow out the room, and then Bob and his band would come out and tear the place up. You couldn't ask for much more for your entertainment dollar!!"

On November 1, it was Madison Square Garden in New York City. This is as big as it gets. The top ticket price was $82, and the arena was sold out. Seats behind the stage were put on sale to meet the demand at $55 each. They sold too, proving how popular Dylan still is. The local newspaper advertised "3 Great Bands." Vendors at all the arena's were selling Dave Alvin Blackjack David T-shirts with a print of the face symbol from the front of the new album. Blackjack David and Interstate City CD's were also being sold as well as a 14 X 20 hard cardboard concert poster with Bob Dylan and Joni Mitchell pictures announcing the concert. On the bottom it reads "Also featuring Dave Alvin and the Guilty Men. Don't You Dare Miss It."

The arena arena is an overwhelming place--big with lots of history. I was a Ranger Hockey season ticket holder years ago and have attended many concerts there over the last 20 years. MSG is the place to be. In my eyes, there is no more prestigious gig. The band members had their wives and girlfriends fly in for the special event. Backstage, stars like Paul Simon, Julia Roberts and Martha Stewart were hanging around but Bob Dylan was nowhere to be seen. Bob, being very elusive, got to the stage without anybody seeing him. Unfortunately, throughout the whole tour, Bob's routine was pretty much the same. As Bobby Lloyd remembers, "Bob stayed on his bus until it was time to go onstage. Then he'd get back on the bus after the encores and go on to the next town." We heard that Bob has a tour bus all to himself and his body guard and driver. Bobby thought the reclusiveness didn't matter much: "He looked like he was having a good time though. Smiling, dancing on stage, talking to the crowds a lot. After the encore in Rochester, he walked down and slapped hands with some of the people up front ....I've Never seen him do that!"

The MSG crowd tuned in and was very receptive to Dave's set. I heard some Dave fans calling out and most of the crowd gave Dave a good listen. Dave mentioned his CD being sold by vendors saying, "It's available in this hall, just like in a night club." Dave on playing MSG: "That was such a rush. Like jumping off the top of mount Everest. It was rough getting psyched up for 4 hours beforehand and at the same time thinking, 'what if I bust a string?' Anything could go wrong. I looked out from the stage and saw 20,000 people and it's like Wow! It's a real come down, coming off stage, because after 35 minutes you're just getting going. So at MSG, it especially took a long to come down. I really felt like I accomplished something."

The next night was the Onondaga Center in Syracuse, NY. The band felt they didn't play up to par. It was kind of a come down after MSG the night before. On to Rochester at The Blue Cross Arena the band was in really good spirits. The big topic of conversation before the show among the band that night was that they discovered that Joni Mitchell's trumpet player, Chris Botti, was the guy who recorded the infamous Buddy Rich temper tantrum tape. The story goes that years ago, famous band leader and drummer Buddy Rich went on a tirade backstage cursing his band, threatening, and just plain repetitively berating his backing band with insults and obscenities. Some kid with a Walkman recorder, taped the conversation which was to become a highly bootlegged and collectable recording. Joni's horn player was that kid. The tape has been called The House of David tape -- because Buddy Rich wasn't happy that some of his band members had beards that reminded him of a 1930's religious cult bearded baseball team called House Of David. The joke in Rochester was that the horn player was more famous than anyone in the building--just based on his accomplishment of taping that incident.

For the set, the band had been playing BLACKJACK DAVID in the arenas a few times; and it really was sounding great with the spacious echo effect of a large hall. Dave attracted listeners to his song lyrics, by intro-ing the song saying, "I have a new album out, I know you're gonna just love it. It's available here in this fine, beautiful 44 million dollar updated War Blue Cross night club. Here's a wonderful old folk song that's got everything in the world a song should have. It's got sex, marriage, infidelity, class warfare, babies, and horses." The crowd responded with light laughter, and I could see a lot of people listening carefully for those elements. Dave dedicated AMERICAN MUSIC, "I'd like to send this one out to Sleepy LaBeef. I hear the beef man is in town." Dave was having fun with his raps to the audience. He said, "I'm Dave Alvin and these are the Guilty Men. We're guilty of loving too much, and too well."

Dylan put on an entertaining show. I have to admit I have a lot of respect for his accomplishments. Also he plays different songs every night so that is a credit to him still as an artist and not just a performer. Not being familiar with Dylan's live shows, I didn't have any pre conceived notions, but I'm told that he is a lot more animated than in recent years, and they say his voice is gotten better. After the show Dave and the Guilty Men walked out the stage door into a group of Dylan fans waiting to meet Bob. One girl begged, "Can you get me backstage to meet Bob? Please!" Guilty Men bassist Gregory Boaz summed up the bands relationship with Dylan on the whole tour with a comment to the girl. He said, "Hell, I'm in the opening band, and I haven't even met him yet." I found that very funny.

The night wasn't over. What was to come was really too cool! We heard that Sleepy Labeef was playing a club called Milestones. So Dave and the Guilty Men piled into my car and another car and headed over there. Upon entering, we heard that Sleepy's car broke down on the highway, and he was canceling the gig. Dave brought his guitar on his back, probably with the intention of jamming with Sleepy. The opening band finished their set, and I could see Dave was itching to get up on stage. After a few beers, Dave suddenly starts calling out to Bobby, "Hey Bobby," and then he asked me where Gregory was. I called Gregory, and the boys jumped up on the stage and did a mini-set. The crowd went crazy! Dave had his guitar and a few of the guys used the opening band's instruments, Gregory Boaz played great on upright bass. I had never seen him play upright, and he was impressive. Bobby played drums, and Joe Terry caused complete mayhem -- jumping on stage for assistance on background vocals, drums, and lead vocals. He was running around the club and hiding, then jumping up on stage. The pedal steel players (Rick and Greg Leisz) sat out as there were not any extra guitar amps.

They opened with Webb Pierce's HONKY TONK. That's a favorite of Dave's for encores and jams. Then, Joe Terry took vocals on the Jerry Lee Lewis song LET'S TALK ABOUT US, Bobby sang CRAZY COUNTRY HOP, and Gregory did GET YOUR BIG NOSE OUTTA MY BUISNESS. Who knew Gregory could sing? He jumped right in there and was really singing to the whole audience. He wound up ripping up his fingers playing on the big strings. They all sounded great and were having such a fun time. Joe was totally wild running all over the place. I'm sure the Guinness Draught I bought him helped. What a great time everyone was having. At one point he started playing drums on Bobby's set while Bobby was still playing. He was beating the floor tom so hard, I'm surprised he didn't break one of the skins! Finally, they did MARIE MARIE after numerous requests for the song. Wow! What a set. This type of spontaneity is what rock 'n roll is all about. And only a small group of fans were lucky enough to witness it. Some friends in the arena audience heard Dave mention the fact that Sleepy was in town during that song dedication. With quick thinking, they guessed Dave might show up. They were right.

The club owner was ecstatic and the crowd buzzed about the surprise appearance all night. Man! This was too cool! Dave Alvin and the Guilty Men, fresh from the big 16,000 seat Bob Dylan concert now playing this intimate club. You had to be there! We left the club, piled into the cars as a light snow started to fall.

It wasn't the first excursion into clubs, for Dave and the Guilty Men on the tour. In Chicago, Dave and Greg Leisz joined Dale Watson and Jimmie Dale Gilmore on stage at Fitzgerald's. Dave played HONKY TONK with Jimmie Dale, and then returned to the stage in the encore with Leisz. I hear there was a rip roaring steel guitar battle between Dale Watson's steel player Ricky Davis and Greg Leisz.

Nov. 5 1998 -The Cole Field House in College Park, Maryland, is just outside Washington D.C., so it is considered a D.C. venue. The Cole Field House is actually a large basketball arena on the grounds of the University of Maryland. In the band's soundcheck, they played the old Blasters classic song CRAZY BABY. Dave did all the solos and the vocal treatment was perfect. Dave looking back said, "Yeah That was fun. We might start doing that (back on the club tour). That would really throw some people for a loop if we played that! (laughs)" Earlier in the day Joni Mitchell was performing at the White House for the president. While Dave was on stage, she was caught in traffic and was running late in getting to the gig. During FOURTH OF JULY the road manager on the side of the stage held up his finger signaling "One" to Dave. I thought he had only one song left, but actually it meant one extra song. The audience wasn't aware that Joni was running late. AMERICAN MUSIC was next, and Dave dedicated it to a group of local rockabilly legends, "I'd like to send this next song out some old friends of mine. Billy Hancock, Tex Rubinowitz, Bill Kirchen, and the late great Danny Gatton." Dave remembers being forced into extended versions of his last two songs to stall for Joni Mitchell to arrive, "During AMERICAN MUSIC I started getting the universal sign of stretch." Dave expanded AMERICAN MUSIC with some different solo sections and upon fading out, launched into LONG WHITE CADILLAC. This was a real treat. The band wound up playing 15 minutes over what they normally play, and it was the first time on the tour they were playing CADILLAC. Later, I asked Rick Shea when they decided they were gonna add CADILLAC, and he replied, "I found out about it when you found out about it." Dave later responded to Rick's remark, laughing, "That's part of the fun of playing with me. I started looking at the stage manager thinking, 'Please tell me were done.' We hadn't done CADILLAC in a long time, but I said, You want stretch, I'll give you stretch! (laugh)" It all ended well and Dave got a rousing round of applause.

Bob Dylan seemed more upbeat in his set and even said, "Thank you, everybody!" He doesn't normally speak to the audience much, but here in the D.C. area he may have been thinking about politics and wanted to connect more with the crowd. Dave watched most of Dylan's shows on the tour and honored him by commenting to me that, "This is like watching Lightnin' Hopkins!" That's quite a compliment. Dave has lots of respect for Bob Dylan. Joni Mitchell was very friendly backstage and Dave had a few conversations with her. In Syracuse, Dave remembers, "We discussed how you can get screwed by record labels and what a horrible thing the music industry is. She basically sounded like one of us. (laughs)" Dave also admires Joni's abilities as a songwriter and singer. He watched her shows, too, and cited a favorite in her version of a Marvin Gaye song called TROUBLE MAN.

The tour ended in Atlanta and Dave Alvin and the Guilty Men felt they finally have received some major recognition. As Dave said, "This was a nice validation for what we do. Kind of like, 'Somebody's paying attention and thank God its Bob Dylan.' The guys needed the kick in the butt saying, 'Yeah! Were Good!' " Bob Dylan's manager felt that Dave and Dylan complemented each other very well, and he would like to bring Dave out on the road again. Dave feels that there is a narrow bandwidth that the two artists occupy: "I can't think of anybody else besides him and Springsteen with that size audience doing my kind of music. What we do is really similar musically, but not lyrically. Basically, he does rock n roll, bluegrass stuff, but really loud. It's a real rock 'n roll songwriter type of audience. Its tailor made for me." Bobby Lloyd Hicks heard a rumor that, "We may possibly do some more dates next summer with just the two bands" Hicks added playfully, "Although it's hard to play that way, I'm keeping my fingers crossed."

Dylan never got to meet up on this tour with the former guitarist of one of his favorite bands, The Blasters. But he did pass on these words of admiration, "Dave is out there in a van, driving from gig to gig, and that's what Rock 'n Roll is all about."
THE GUILTY MEN TESTIFY
American Music: How did you enjoy the tour?
Gregory Boaz: It was really exciting to be on the tour. We were all blown away with the great response we (Dave) got. It was a little hard to get used to only playing 35 min., so I think we all missed the clubs in that sense. The catering backstage was KILLER!"
Joe Terry: I must say, I think my favorite show was Madison Square Garden. I wasn't very nervous before the show, but once I got on stage, I thought I was going to pass-out. I was breathing so hard I really thought I would hyperventilate.
AM: What was the craziest thing that happened?
Gregory Boaz: One night Bob was wandering around the backstage halls with a boomerang!
Rick Shea: Yeah, I saw him! I never did figure out what the deal was with that. It was a big boomerang too! (laughs)
AM: I heard nobody met Bob, but how about Joni?
Gregory Boaz: I did meet Joni. She was very "down to earth."
Bobby Lloyd Hicks: Joni was very nice. She usually ate with the bands and crew in catering each evening.
Rick Shea: Bob was very secluded, but I saw Joni often. She spent time hanging out with her band before the shows.
---
Was one of those amazing evenings, when everything falls into place!

Saw Dave and the GM open for Joni and Bob. Joni was LUMINOUS - really astonishingly wonderful - and Bob was great, and of course every musician on stage was amazing. Wow! Dave's set stood up to the rest of the performances, and the audience was attentive and impressed, I'm sure. He closed with a raucous "American Music."

We were in the 11th row, which was INTIMATE by arena standards, and great for Joni and Bob, but I had never been so GODDAM FAR away from Dave before! And, of course, with the whole arena thing, there wasn't going to be any schmoozing the band after their set. But I also knew that Dave knew that Sleepy La Beef was playing at a club in town last night, and so had some hope that he might head over there after the show.

So, we went over to the club, only to find that Sleepy had cancelled. Bummer! But Dave and the band and Greg Leisz didn't know that, so they showed up, Monica was happy, Dave and Gregory and Bobby Lloyd and Joe played a quick set - too much fun! And we all hung around, and talked and BASKED in the wonderfulness of having our buddies of the road in our town and in one of our clubs, and then my husband and I drove Greg, Gregory and Dave (and Dave's guitar in our cargo area) back to their hotels and we all hugged and shook hands and then it was back to normal reality but it was as you can imagine MAGICAL for me.

And Billy Davis was there, too! What a kick it was when he came up and introduced himself! (We had met in Philadelphia last spring.) I told Billy that I'm starting to feel like the fan thing is in a small way evolving into a friend thing. It's a nice transition that makes seeing Dave and the band after gigs seem less predatory - do you know what I mean by that? Like we can give something back to them, rather than just GETTING from them - the music, the chance to rub shoulders, all that fan stuff.

Do I sound happy?
Submitted by Monica Simpson
---
Well, I went to Vancouver, BC last weekend to see Dave at the Vancouver Folk Festival. I had a great time and got a little sunburned too. My train got in around 11:45 and Dave was scheduled to go on at 12:30. I waited in line at customs for about 20 minutes hopped in the nearest cab and asked the cabbie to take me to Jericho Beach Park where the fest was. His grasp of the English language wasn't too great so I hoped he knew where he was going. I got there with 5 minutes to spare. The concert format was similar to Monsters of Folk with everybody on stage taking turns. Also on the bill were Texan Toni Price and her band (Snappy, Champ and Casper...I'm not kidding) a couple of local folkies and 88 year old Alberta Slim singing songs aboot how great Canada is!!! Dave, along with Rick Shea on mandolin and lap steel did Mary Brown, Every Night About This Time, A cajun-fried version of Marie, Marie, Railroad Bill and a duet of What am I Worth with local singer Linda McRae. That was just Day one. More about Day two in the next post.

On the second day I was at the fest they were doing a live radio broadcast on CBC radio 2 (which is apparently only available in BC). Dave got to do about 20 minutes of material including King of California, Dry River, Blackjack David and a long version of Long White Cadillac. All in all a fun weekend.
Submitted by Jon Noe
---
Live at the North Star Bar in Philadelphia on June 27th, a real bar in a real neighborhood (though right on the edge of scary). I had seen Dave once in an acoustic setting and once for a short set at an outdoor festival. Those did not prepare me for this. Dave and the Guilty Men blew the roof off this place. Early in the tour - a few kinks, but this is barroom rock & roll with some fine country blues thrown in for texture. The kinks give it character - like Dave getting Joe Terry to strap on the accordian for a solo in Marie Marie even though Joe hadn't prepared for that song and, in fact, had only been playing the damned instrument for about a month! But, as anyone who is a fan of the Skeletons will attest, Joe is as skilled a trooper as you will find. He gave it a shot and the crowd loved it. As a matter of fact, the crowd loved the whole affair so much it seemed they wouldn't let it end, calling the band back for a second encore despite the obvious signals that the show was supposed to be over - you know, lights up & house music on. It was a wonderful night.

It being a very small club and the band being their own roadies, my friend Jenny and I stayed and had the great pleasure of chatting with Bobby Lloyd and Joe for about 40 minutes. They were very generous with their time and their stories, in addition to getting me a set list and helping me to get Dave, as well as Greg and Rich, to sign it. For a 46-year old rock & roller like me, not to mention a die-hard Dave Alvin as well as Skeletons fan, this was my kind of heaven. I highly recommend that anyone interested in fine American music catch this band somewhere on this tour. You won't be disappointed, and they will only get better as they go along. Trust me. They are having fun.

Songs:

New Highway
King Of California
California Snow
Dry River
Blackjack David
So Long Baby
Goodbye (EVERYONE in the place started dancing)
Haley's Comet
Out In California
Mr. Lee
Abilene
Mary Brown
30 Dollar Room
Museum Of Heart
1968
Jubilee Train
4th Of July
American Music

1st encore:
Blue Wing
Interstate City
Marie, Marie

Finale:
Border Radio

Band:
Dave (of course), Bobby Lloyd Hicks - drums & vocals, Gregory Boaz - bass, Rick Shea - pedal and lap steel, mandolin, and guitar (everyman), Joe Terry - keyboards, vocals, and an accordian named Lawrence.

Warm-up:
Dwayne Jarvis w/help from Bobby, Greg, & Joe. Excellent set - I'll be looking for his cd.
Submitted by Wayne Stevens
---
Got to see Dave and the Guilty Men last night in Annapolis, MD. It was a great, high energy show marred only by a somewhat apathetic crowd. The Ram's Head isn't exactly the kind of place where a kick ass rock and roll band can thrive (it's actually closer to a cafeteria room) but Dave and the boys definately gave it their best shot. Setlist as follows:

New Highway
King of California
California Snow
Laurel Lynn
Little Honey
1968
Dry River
Blackjack David
So Long Baby, Goodbye
Out In California
Halley's Comet
Mister Lee
Abilene
$30 Room
Museum of Heart
Fourth of July
American Music
From A Kitchen Table
The Way You Say Goodbye
Marie Marie

As the band was coming back for the first encore I called out for "Kitchen Table". Dave said he'd never done that live (pretty sure that wasn't exactly true considering that it's the best tune on the new record) but he started strumming the riff and went ahead and played the song. This was the shortest Dave Alvin show I've seen but the others were at the Birchmere in Alexandria, VA where every show is a special event. All in all a terrific night of music, I can't wait to see him next time he makes his way to the east coast.
Submitted by Joe Schwind
---
Hello Everyone:

I want to warn you, this is going to be a long review. If you're merely interested in the setlists, scroll down and they will be easy to find.

Saturday, June 20th, my wife and I, and two other couples made the 2 hour drive from our home in South Carolina to see Dave & The Guilty Men at the Star Community Bar in Atlanta.

The Star Bar is a great venue, complete with an Elvis shrine, but only holds about 200 standing customers. On this evening it was packed. After standing through an opening set by Marah, which left us largely unimpressed, Dave & The Guilty Men took the stage. This year's version features Rick Shea on steel, lap steel, and Telecaster guitars and backing vocals; Greg Boaz on bass; Joe Terry (of the Skeletons) on keyboards, accordian and backing vocals; and the incomparable Bobby Lloyd Hicks (also of the Skeletons) on drums and backing vocals.

The setlist consisted of the following songs:

New Highway
King of California
Dry River
Blackjack David
So Long Baby Goodbye
Haley's Comet
Mr. Lee
Abilene
Thirty Dollar Room
Museum of Heart
Mary Brown
Fourth of July
Jubilee Train (dedicated to the people in Flint, MI)
Long White Cadillac
American Music
(Johnny Otis cover, sung by Bobby - something about "Snaggletooth"?)
Out in California
Marie Marie (I noticed Dave's setlist read "Murray Murray")

Obviously, we were close enough to read Dave's setlist. I don't know about elsewhere in the club, but from where we stood (listening through Dave's monitor), the vocals were a little muddled. (Dave admitted afterwards that he was having trouble hearing his own vocals.)

It was great to hear the new stuff live, in a full band setting. Joe Terry (on accordian) and Rick Shea (on steel guitar) really augmented the sound of the new material which I had previously only heard with Dave on acoustic guitar.

Afterwards, we got the chance to talk to Bobby and Joe while waiting for Dave to come out. I told them how much we loved the last Skeletons CD, Nothing To Lose. They were appreciative, but said that apparently enough people did not feel the same way. High Tone had recently dropped them. The label had hoped to sell about 25,000 units, but ended up only selling about 12,000.

A little later, Dave came out and we had the opportunity to talk to him for a few minutes. We were pleased that he remembered us from previous gigs, most recently, at Clemson last September. We asked about his father, who was suffering from Parkinson's. Dave and Phil had split most of last summer taking care of him. He said his dad was fine, and was up in Oregon with "his girlfriend".

I asked if he was playing From a Kitchen Table, my favorite on the new CD, on this tour. He said not yet, that it was such a quiet song for such rowdy settings. He did promise to play California Snow if we came to the Asheville show on Monday night, and gave me permission to tape that show.

Needless to say, there was no way we weren't going to Asheville, so on Monday, 3 of us drove 2 hours north to catch the show at Be Here Now in Asheville.

This was an altogether different setting. Be Here Now is a smoke free club, with a large stage, and a more laid-back feel. We arrived early for the soundcheck and discovered that WNCW, the local Americana station, had given tickets away for a soundcheck BBQ with Dave Alvin & The Guilty Men.

We heard the soundcheck (including a preview of California Snow) and generally tried to hang out of the way, since we weren't part of the radio station dinner. Much to our surprise, Dave got his BBQ, and came over our way and sat at our table. We had a nice 20 minute conversation. I asked about merchandising (T-shirts, hats, etc.) Dave said it was too big a hassle on the road. He told a few stories about the Pleasure Barons tour. Mostly, though, we related our stories about how we had come to be fans.

By showtime, there were about 100 people there, not bad for a Monday night.

The setlist for this show was as follows:

New Highway
King of California
California Snow
Dry River
Blackjack David
Little Honey
So Long Baby Goodbye
Haley's Comet
Mr. Lee
Mary Brown
Abilene
Thirty Dollar Room
Museum of Heart
Fourth of July
American Music
Jubilee Train
Long White Cadillac

The stage had an open window behind a black curtain. During the first song, a thunderstorm began to blow through, and tipped a mike stand over on to Joe Terry's back. Ever the pro, Joe kept playing, all the while wondering what had happened. (Afterwards, he said he thought someone had come up from behind and slapped him on the back)

I believe that this was a better show than Saturday's. The bigger stage and better sound system, combined with a large open area down front, invited everyone to get up and dance. Long White Cadillac, in particular, was mesmerizing. Near the end of the song, Rick Shea joined in on steel guitar to echo Dave's solo. Soon Joe Terry picked up the same refrain on piano, and the rest of the band joined in and kick-started things for another couple of minutes.

The show was over by the (relatively) early time of 11:30, so we hung around to talk to the band.

I mentioned to Bobby Lloyd Hicks that I had seen his post regarding the Skeleton's scoring the Asian cartoon network show. Joe Terry mentioned that it was fun and "paid well". I asked them about Tubb's Theme, an instrumental on Nothing To Lose, doubtfully wondering if there was any association with the Miami Vice character. I was delighted to find that the song is about their old roadie's dog.

Dave was kind enough to autograph a copy of their tour poster (these weren't displayed in the club, but he had some in the van) for my wife, Janet. He inscribed it "To Janet: mi amor por vida". I commented that the CD cover, which was the art used on the poster, remined me of Edward Munch's "The Scream". He just kind of smiled at that.

I did tape the show, and it turned out great. We listened to it all the way home to South Carolina.

The next day, Dave & The Guilty Men did an in-studio acoustic performance and interview at WNCW. They played the following:

King of California 
Andersonville (a rare performance of one of his favorite songs)
Laura Lynn
Border Radio (he said they hadn't played this on tour yet)
Honky Tonk ( a Mel Tillis song)

I recorded this all of this (about 50 minutes, including CD versions of Blackjack David and Museum of Heart), and included it on the second tape of the Be Here Now show from the night before.

If anyone, would like a copy of the tapes, just e-mail and we'll try to work out a trade. If you're new to tape trading, and don't mind being patient, you can just send me two tapes, a mailer and postage, and I'll dub copies and send them to you.

Most of all, if this tour comes anywhere near you, make an effort to get out and see it. You will not be disappointed.
Submitted by Steve Crump
Anderson, SC
---
Artistes: The Monsters of Folk -- from left to right on the stage, Dave Alvin, Chris Smither, Ramblin' Jack Elliott, Tom Russell

Venue: Fitzgerald's, Berwyn, Illinois

Capacity: Usually around four hundred, I think, but they had chairs set up so there may have been a bit less.

Crowd: Rather diverse.

Celebrity Sighting: WXRT dj Tom Marker.

Moron Factor: Low but it crept up as the evening and the alcohol consumption wore on...

Sound: Great.

Our Seats: Second row.

What They Played: Jeez, about two hours and forty minutes. Some songs as a group, some songs with two or three guys playing, most songs as individuals.

I am unfortunately not familiar with the work of Smither or Russell. Recommendations would be greatly appreciated.

Alvin played "Wanda and Duane", "Dry River", "King of California", lots of others, and some new ones that'll be on the album which is due on June 16.

Ramblin' Jack Elliott, who is a national treasure, played a Jimmie Rodgers song, two Woody Guthrie songs, two Carter Family songs, Bob Dylan's "Don't Think Twice It's All Right", others.

Highlights: Pretty much the whole damn show. Alvin said that if you look up the word 'legend' in the dictionary you'll find Jack's picture -- I would suggest that if you look up 'camaraderie' you'll find all four men's pictures.

Alvin's self-deprecating wit. Russell's killer impression of Johnny Cash. Smither lost in his songs, swinging his head side to side. Ramblin' Jack Elliott, rambling.

Alvin adding Jerry Springer and Mickey Gilley to the story of Wanda and Duane. Russell dropping down for another low note. Smither's guitar playing. And did I mention that Ramblin' Jack Elliott is a national treasure?

And they requested that there be no smoking during the show (the intermission lasted like forty minutes -- I figured Alvin needed that long to chain smoke a few packs).

Lowlights: Ramblin' Jack looked kind of tired, and had a recurring cough. He fluffed his lines in Russell's "The Sky Above The Mud Below".

Songs I Wished They Played: Ramblin' Jack has been heard to do a great version of "Friend of the Devil".

The Band: Just the four men.

Summary: Jaw-droppingly entertaining.
---
Monsters of Folk:
Review from Rolling Stone Online...
Dave Alvin, Ramblin' Jack Elliott, Tom Russell, Chris Smither The Bottom Line, New York, April 21, 1998

The name, it goes without saying, is a joke. A bit dated, too, considering that the last bonafide Monsters of Rock tour was way back around the time Sammy Hagar was still paper-training in Van Halen and probably before Perry Farrell even looked the word Lollapalooza up in the dictionary. Nevertheless, with this line-up of true-blue American mavericks, the title sounds just as true even without the intended tongue-in-cheek.

Granted, these are not all marquee folk monsters of the Peter, Paul and Mary run-for-the-hills variety, so for the unenlightened, a few brief introductions might be in order. Dave Alvin was a key member of L.A.'s seminal early Eighties band, the Blasters. As a solo artist, he has remained an important cult figure on the roots-rock scene, his songs covered by the likes of X, Dwight Yoakam and Robert Earl Keen. He's also earned the right to write and record songs with Tom Russell, who has been pegged by some critics as one of the world's best contemporary songwriters. Chris Smither, an outstanding New Orleans-born, finger-picking blues guitarist and singer, has had his songs covered by Emmylou Harris (on the recent soundtrack to The Horse Whisperer), John Mayall and Bonnie Raitt -- a fine guitarist in her own right who has called Smither her own Eric Clapton. There is no brief introduction for Ramblin' Jack Elliott, but pick a modern music icon at random from the air, and odds are you'll find his fingerprints all over it. Woody Guthrie? Elliott's mentor. Dylan? His mentee. Jagger? He inspired the little punk to go out and buy his first guitar. That will have to do for now.

Now, sit these four in a row on stage in front of an intimate crowd, give them the freedom to pick and swap songs from their collective wealth of material and a leisurely hour-and-a-half to kill, and it shouldn't take a musicologist to foresee something truly special about to happen. It did.

Despite his seniority (and near mythic status), Elliott only claimed the spotlight when he was on deck for a song. With just a couple of exceptions, the format called for each man to perform a song as it was his turn in line. The other three would either strum along, join in for a chorus or alternate verse, or simply listen as attentively as the audience. Breaks between songs were filled with anecdotes which were often as memorable as the songs themselves, particularly Russell's story about his cab-driving days and passing on a song to a famous fare. Years later, Grateful Dead lyricist Robert Hunter would introduce Russell's "Gallo del Cielo" as a song he learned from a cabbie in Jamaica, Queens.

Russell's own take on "Gallo," arguably the most beautiful and heartwrenching song ever written about a cockfight, drew one of the strongest responses of the evening and seemed an early contender for the show's finest moment. As it turned out, such distinctions were impossible, as was any attempt to pick favorites out of the foursome. On the haunting, lonesome "South Coast," Elliott's dry voice was as familiar and soothing as the crackling embers of a slow-dying fire. Alvin's "California Snow" neatly tied together themes of divorce, mid-life crisis ("Just trying to make a living/an old man of thirty-nine") and the deceptive, siren cry of the American dream. And with "Winsome Smile," Smither turned a cryptic fortune cookie message ("Your winsome smile will be your protection") into a bitingly funny wake-up call for the lovesick enamored with their own melancholy: "I think happiness would fill your head with misery."

As hard it was to single out individual performers, a couple of excellent ensemble numbers did stand apart. The first was Alvin and Russell's "Out in California," which captured the same self-pity Smither addressed in "Winsome Smile" with equally painful clarity: "I'm sitting here drinking in the last bar on earth/and out in California, she's taking off her tight red skirt." Ouch. After that, Elliott and Russell's light-hearted stumble through the half-spoken "Cup of Coffee," was a refreshing respite. Johnny Cash covered the song, a comic skit about mixing too much liquor with a quick cup of Joe, on his delightful but obscure late-Sixties novelty album Everybody Loves a Nut. Russell acknowledged the missing monster with a dead-on Cash impersonation throughout the number.

If there was any room for improvement tonight, it was the absence of a female voice to balance the slight he-man-woman-haters'-club vibe that would rear its head from time-to-time (such as when all four joined in for the shotgun fantasy bitter end of "Out in California.") But that's just the blues talking, spoken bluntly but true to the form's deep, earthy roots. Maybe if the Monsters of Folk gather again next year (tonight was the second to last night on the month-long tour), other troubadours might take a seat in the lineup. But for now, tonight's show was a welcome refresher course in the stark power of a genuinely great song -- and the awesome swath of destruction left in the wake of four quiet giants tossing around such treasures with reckless, carefree abandon.
Submitted by RICHARD SKANSE
---
I got my copy of "Blackjack David" today and if you like "King Of California" there's no way you cannot absolutely love this new CD. It's not quite as sparsely arranged as "King", though. Drums are featured on most songs and there's a couple real rock/boogie songs complete with electric guitar. The title song is an old folksong that some of you may know from Dylan's "Good As I Been To You" album a few years ago. Dave reworked it quite nicely. Standout tracks to me (on first listen) are the storysongs "Mary Brown" and "1968". One's a song about a guy who killed the husband of the woman he was in love with but ends up being betrayed by her. "1968" was co-written by Dave & Chris Gaffney and it's the tale of two very close friends who go to VietNam together but only one of 'em comes back home. The other winds up sitting in a bar thirty years later still missing his very best friend even more than his ex-wife does. Just amazing stuff. There's also lots of great guitar work by Dave and the amazing Greg Leisz. Dave's also constantly improving as a singer. This is just a terrific record.
Submitted by Marcus Rill
---
OK, The Monsters of Folk tour opened in Seattle at the Tractor Tavern on Tuesday. A friend was supposed to get me on the guest list but at the last minute said he couldn't do it! So I waited outside in line for about an hour to get in. As the show was starting the doorman finally let 10 of us poor souls inside. The format wasn't really what I expected. I thought each performer would do a set and they'd all join in for the finale. They were all on stage together and took turns and did some songs together. Chris Smither did his foot tappin' soulful blues, Ramblin' Jack Elliot couldn't play guitar or sing very well but he's got great stage presence and the crowd loved him. Tom Russell is amazing! He did his own songs, told some stories and did some duets with Dave including Blue Wing, Out In California and Haley's Comet. And then there's Dave. I hadn't seen him do an acoustic show since 1990. He did New Highway (from the Monsters sampler), The new songs Blackjack David and California Snow, King of California and Dry River. After the show I talked to Dave for a few minutes. I presented him with a bar of soap from the Riviera in Las Vegas for his soap collection. All in all a very special one of a kind evening.
Submitted by Jon Noe
---
"Although they were billed as 'Monsters of Folk,' Ramblin' Jack Elliott, Dave Alvin, Tom Russell and Chris Smither agreed on another title for their tour in the midst of their performance at the Birchmere Friday night: 'Grumpy Old Men With Guitars.'

By any name, the concert by four veteran singer-songwriters proved thoroughly entertaining. Seated onstage together, they spent most of the night trading great songs, amusing quips and improbable tales, and occasionally forged some rough-hewn, heartfelt harmonies on a couple of Woody Guthrie tunes.

Elliott, a Guthrie protege, quickly lived up to his reputation for being an epic storyteller, 'the Marcel Proust of folk music,' as Russell aptly put it. Hunched over his guitar and speaking in a campfire whisper, Elliott gave the audience an unflinchingly earnest account of how his old dog, Caesar, used to drive him to gigs and then hang out backstage, 'bumming steaks.' He also recalled how the cowboy poet Buck Ramsey was injured early in his life in a 'horse and cow wreck' in West Texas. Elliott then saluted his late friend with a terrific version of Guthrie's 'Buffalo Skinners.'

Elliott's tour mates left a strong impression as well. Smither's finger-style blues guitar playing colorfully underscored a series of fine songs about love, loss, misery and freedom, including 'Winsome Smile' and 'Hold On.' Russell countered with several beautifully crafted narrative ballads, among the 'Blue Wing' and 'The Sky Above and the Mud Below.' And Alvin, sometimes inspired by themes of life and death in California, contributed songs of unusual poignancy and passion."
Mike Joyce Washington Post 4/20/98
Submitted by Barbara Key
---
I just got a copy the other night of Dave's latest (Blackjack David) from his agent, Brad Madison of Mongrel Music and I must say this is obviously the best thing since King of California. The track that really hits the heart for me (so far) is "From a Kitchen Table" ...WOW! Mr. Alvin delivers the goods again! Just wanted to tell it, ese.
Paz, Jaime (aka El Vato )
---
Kelly Jo Phelps and Dave Alvin in San Francisco, Noe Valley Church, November 29, 1997
I need to give you some history before I tell you about the show I saw last Saturday night.

Most of the music that I have grown to love came way before my time. I love Howlin' and Muddy, Merle, Louis Jordan, Big Joe, Lieber and Stoller and Pete Johnson. All of it's good stuff to my ears, but none of it is of my times. Dave Alvin, fortunately, is the exception to this!

I discovered Dave Alvin and the Blasters in my early 20s and continue to enjoy his music into my not so early 30s.

I was lucky enough to see the early '80s Blasters in Joe Turner country (The Grand Emporium). I saw the late '80s revamped Blasters. I saw Dave walk on stage half way through a Blasters show in The Couch House, San Juan Capistrano 1992 (turned out to be the last true Blasters show ever). I was blown away in '93 at the Rockin' Horse in Scottsdale. I have taken a few cabs home from The Rhythm Room. I Caught the Pleasure Barons. I now enjoy the shows in San Francisco and Sonoma County. I have seen the black leather, beer in hand, "How the hell did I get home?", Friday night shows. I've seen the "listen-to-a-pin-drop ", Sunday afternoon, take it all in shows, and have enjoyed both immensely.

It has been my pleasure to follow a musician who obviously believes that his art is a living breathing growing thing. Too many bands that play live, while enjoyable, seem to rely on where they've been instead of where they can go. (Sorry, Phil). Dave is a work in progress.

On with the show.

We stood in a long, wet line to get in enter the small cozy church. A large, enthusiastic crowd stood with us. We settled in into quiet darkness as Kelly Joe sat down to play. Kelly Joe's show was awe inspiring in a sort of "sling blade" sort of way. It was really something to see. The man, while talking between songs, seemed so unassuming and low key. It was just an act, believe me! Once he wrapped his hands around his guitar, it was beyond clear who was in charge.

Dave started his show about 45 minutes later & opened with Border Radio. His nod to Sam Cook still gives me goose bumps. Dry River, Haley's Comet, Barn Burning and King of California all sounded fresh and vital. His new songs sounded really good, and I am looking forward to the new album coming out soon. In particular, the song "I hate all the things I love about you" show that Dave's understanding of human nature, and his wit, have not diminished over the years.

Dave had a couple of hired guns backing him on pedal steel, mandolin and fiddle and later on in the show, Kelly Joe came out and filled in also. The extra players, in that church, added much texture to the music.

Two Highlights:

Long White Cadillac: This song took on a life of its own. Dave and Kelly Jo went head to head and the song came alive. It was a very pure moment sitting there and watching that.

Marie Marie: Forget the nod to Sam Cook! Dave now tipped his hat to his brother and his past. This encore was an amazing treat. The church has a policy of no amplification after 11:00 P.M. Dave and Kelley Jo and the extra players came out and tore through this one! All acoustically!!! It was great! What they lacked in electronics, they more than made up for in shear presence.

If someone had told me in 1982, while watching the Blasters play Marie Marie in The Grand Emporium in Kansas City, that 15 years later I would be sitting in a church in San Francisco watching Dave play the song as he did, I would have told the person he was nuts!

A decade and a half later, I would not have missed it for anything in the world!!

It was a great night.

A personal note to Dave:

Dave, normally I come back after the show and drink a beer and shoot the shit. I would have, but I was telling sweet lies to some chick I meet in the lobby of the church. She said her name was Wanda. I will catch you next year I'm sure.
Submitted by California James
---
Dave Alvin and Kelly Joe Phelps brought their acoustic tour to Clemson University on Friday, September 26th. The concert was held in Tillman Auditorium, a wonderful 100 year-old setting before an enthusiastic, but disappointingly small crowd.

Kelly Joe Phelps led things off with a 45 minute solo set featuring several songs from his recently released new CD "Roll Away The Stone". It was amazing how many different sounds he could coax from his acoustic and dobro-style guitars. For those of you who have not seen Phelps live, he is also a very engaging stage personality, sprinkling the set with jokes, and offering gum to the audience.

After a short break, Dave Alvin took the stage with Kelly Joe along. They immediately launched into a strong version of "Barn Burning", and from there proceeded to play a 75 minute set featuring the following songs:

Barn Burning
Little Honey
California Snow
Dry River
For The Love Of Molly Brown
Abilene
Out In California
Every Night About This Time
Fourth Of July
Kern River
Long White Cadillac
Blackjack David

Three of these songs were unrecorded. Abilene I had heard last October at the Handlebar in Greenville, SC, when he played it with the Guilty Men. It had a decidely different flavor as a ballad. The other two new songs were of course played as ballads, but I trust they will remain so when finally recorded.

California Snow is a great song about Mexican immigrants coming to the this country with idealistic views, only to end up freezing to death in the mountains of California. For The Love Of Molly Brown was my personal favorite of the new songs. It's about childhood friends/lovers who grow up together in a suburban neighborhood "where the houses are all the same". She marries someone else, but continues to see him on the side. If any of you ever saw the early '80's movie "Body Heat" you can guess how things end up.

Kelly Joe provided some other-worldly accompaniment, particularly on Long White Cadillac. At one time, Dave referred to him as "the Charlie Parker of guitar".

Best of all, I got all of this on tape. My wife, Janet and I showed up early to catch Dave before soundcheck. Janet had made several stunning photographs of Dave at his May '97 Be Here Now show in Atlanta. She had one of them enlarged, and wanted to get him to autograph it, which he obligingly did when he arrived.

We talked with him for awhile, sharing much of the information I had seen on the homepage. Dave did indicate that the publication date for his book "The Crazy Ones" has been pushed back until about February. He said that his father had been diagnosed with Parkinson's disease this summer, and that he and his brother had split most of their time this summer taking care of him. Thankfully, he said that once dopamine treatments were initated, his father was a lot better.

Dave also indicated that plans are to record his new CD in December. Later next year, he hopes to go into the studio with Kelly Joe and Greg Liesz and record old standard folk songs (one of which will be Blackjack David).

We mentioned how much we enjoyed his video that we obtained from Billy Davis at American Music. Dave mentioned that he had run into Billy a few nights before in upper state New York.

Also, my wife and I are both fans of Bill Morrissey, the New England folk singer. We has seen Morrissey the previous weekend in Atlanta. Dave mentioned that he and Morrissey admired each other's work and had "exchanged a few letters". Dave also mentioned that he was working on his imitation of Morrissey's unique voice.

Anyway, I asked permission once again to tape his show, as I had the previous October at the Handlebar, and he graciously said yes.

I put copies of the tape in the mail to he and Kelly Joe today, and will be more than happy to dub copies for any other Dave Alvin fans that read this.

If you're interested, please e-mail. I would prefer to trade for Dave Alvin or other artist material you might have. However, if you have nothing to trade, feel free to contact me anyway, and we'll work it for tape, mailer and postage costs.

Thanks to Dave and Kelly Joe for a great show!
---
---
What a great day in Jamestown NY. A bit of a drive from NYC (7 hours). It was at the Community college that Dave and Kelly Joe Phelps performed in a free show in the little town that is 80 miles from Buffalo. It was all put together by a Dave Alvin fan in Jamestown who is an English teacher and was able to get a grant to pay for having Dave come to Jamestown.

First in an intimate performance room Kelly Joe Phelps performed a slide guitar workshop where he explained his lap slide playing technique. He also performed 2 songs. Dave then read poetry from his book and treated us to a new poem called "Robert Johnson." Yes, about the famous bluesman. Both guys were there on only 4 hours sleep due to some heavy traveling to get there from Ann Arbor Michigan.

Dave and Kelly brought along some CDs and books and the Jamestown crowd just ate it up. Dave was pretty amazed at how well the stuff sold and plans on having Cds and books available at his gigs more often. Anyway the performance was great.

Kelly played his set which brought a surprising roar from the crowd at the end. Surprising because most of the people had not heard of him before. Kelly's Cds sold like hotcakes after his Slide guitar demonstration. Kelly played songs from his new Cd ROLL AWAY THE STONE and improvised on a few other tunes.

For Dave's set things were done a little differently if you have seen the pairing before. Usually Dave does 45 minutes by himself then Kelly accompanies him for the end of the set. Here Kelly sat in the whole set and played along in every song. Dave did 3 songs that will appear on his 1998 studio album. Excellent songs that I'm really looking forward to. ABILENE, CALIFORNIA SNOW, and MARY BROWN. Dave did a bunch of other favorites including their great rendition of BLACK JACK DAVID and finishing the set with LONG WHITE CADILLAC. Dave and Kelly both wore baseball caps I think to hide their tired looks. They still put on a great show.

What made the Jamestown appearance so special was the extra poetry recital by Dave and Kelly's Slide guitar workshop. Dave and Kelly stayed and signed autographs on the stage after the show. They are still talking about doing an album together, so we may see that later in 98. Look for a full review of the show and the inside story on the Jamestown show in the next issue of American Music: The Dave Alvin and Blasters newsletter. You'll hear the inside story from the guy who organized and brought Dave Alvin and Kelly Joe to the small town of Jamestown.
Submitted by Billy Davis
---
Dave at the Route 1 South Conference and Music Festival In Richmond, VA 1997
[Ed: This is an excerpt taken from a longer review.]
All of this was prelude to the real reason we'd gone to this club: to see Dave Alvin. At midnight, the emcee introduced "Dave Alvin from Holyoke, Massachusetts," which of course made no sense whatsoever. With as much good nature as he could muster, Alvin gently made it clear that he was from L.A. and his other players were from locations as diverse as Springfield, Missouri. I wanted to jump up on the stage and say, OK, here's someone who's a mini-legend and named occasionally as an inspiration for younger alt-country acts, and you're treating him like he's just the fifth band of the evening??
Then came the music.
The first few soulful bars of the piano and guitar intro to "So Long Baby Goodbye" turned the club into an intimate gathering for Dave and about 200 of his friends (I have played that piano and guitar intro quite a few times since then -- it's reproduced nicely at the beginning of the "Interstate City" album). After fifteen seconds, I knew this was going to be a special set.
And then the band let go with an astonishing, full-fledged attack on the song. I was transported instantly to the days of Sun, when a rocker of unflinching and uncompromising integrity could bring joy to your heart with a pure and gritty sound. I have been on this earth for 37 years, and I am proud to tell you that in all those years -- so many of which I've spent going to concerts in small bars and large stadiums -- I have never experienced an exhilirating rush like this one, nor have I ever been so convinced of the redemptive power of rock and roll. Not at any bar where I've seen acts that later made it big. Not anywhere. I have seen shows where artists inspired me with sustained emotional force (concerts by the Smithereens and Springsteen come to mind). I've certainly seen shows that were better technically than this one; at one point the vocal dropped out of the mix for about five minutes, during which time Alvin just kept on singing. But I have never seen anyone rock harder or more convincingly than Dave Alvin did last Saturday night.
Any preconception I might have had that Alvin was just "that guy who used to be in the Blasters" was wiped out immediately. I knew without being told, without the benefit of any hindsight (for everything seemed to be happening in an accelerated timeframe) that all I had ever known, all that was the status quo of my life to this point had just been permanently and unalterably erased in favor of a new reality this was an experience akin to meeting my wife or Eric for the first time.
During that opening song, I remember looking around furtively, nervously, hoping we weren't the only ones letting go. And dang it if the crowd didn't agree with me. Until now the only ones up and hopping about were the devoted fans of each band (Carbomb, being from Richmond, had more than the others). Now a small sea of arms and bodies thrashed about, dancing up a happy storm and cheering wildly after each song.
I would have paid the entire conference fee gladly if only to experience the first few minutes of the set, let alone all that came after -- later, I said to Eric that we had seen "10 opening acts and a headliner." It's impossible to reproduce for you the energy of the songs that followed, from the New Orleans-style shuffle of "Mister Lee" (dedicated, as I would later discover, to deceased sax player Lee Allan) to "Long White Cadillac," a powerhouse rocking version of "Fourth of July," and the absolutely killer medley of "Jubilee Train/Do Re Mi/Promised Land," which must have Chuck Berry smiling from heaven. Alvin's guitar was reeling off tasty licks and solos, his piano player was pounding out a heavenly roar, and the band was tight as tight can be. Do yourselves a favor: if you don't already have "Interstate City," go get it.
Alvin's songs about ordinary people, for example, the loner who travels from city to city staying in a "Thirty Dollar Room" are a keenly penned, insightful and occasionally joyous celebration of America that never stray from the honest and authentic. The youth movement among today's radio programmers will probably prevent Alvin, who I estimated to be 40 or so, from seeing much more of a career resurgence. And that's a real shame. Much has been written on this list and elsewhere on the relevance of over-40 artists in the maturing (waning?) years of rock and roll. Too many veterans rely more on past glory than any excellence of the current oeuvre to my ear, Mick Jagger and Bruce Springsteen stand out in this regard. Perhaps, as Eric suggested, fame and fortune make it difficult to summon forth meaningful songs. Perhaps a voice which sounded fresh, raw and revolutionary at 20 too often evokes a sort of tepid nostalgia at 40.
What I do know is this: Dave Alvin bucks the trend, sounding better to me at 40 than he did at 20. The maturity of his singing, the careful phrasing, the storytelling, and the band's energy all reflect a rocker who is more relevant today than ever before.
I was trying desperately to remember our friend who criticized hack writers for citing only Gram Parsons and other 70's acts as influences for today's alt-country groups, leaving out 80's bands like the Blasters and Jason and the Scorchers -- was it Cantwell? Biscuit? Purcell? -- my mind was racing feverishly to conjure up an e-mail message that I unfortunately read and then deleted. Just past midnight on Saturday evening, I made up my mind to ensure that everyone on P2 knows beyond a shadow of a doubt that this person was right. Dave Alvin has more honesty and integrity in one guitar lick, not to mention soul and grittiness, than Jeff Tweedy or Jay Farrar will ever have. It's just as simple as that, and I will brook no argument. This comes from one who has bought three Wilco and Son Volt records and enjoys them thoroughly, mind you. I am completely in the debt of whoever it is who told us not to overlook the in-between years of the 80's, for it is he who hath true wisdom.
I haven't seen the future of rock and roll, as it was so famously said. But in the one-hour set by Dave Alvin and the Guilty Men, I saw rock and roll as it has been passed down to us by the original masters, as it is now, and as it can be great again. My only regret is that I have passed up so much good music in the past. A few visits to the music store will cure that.
This show marked a joyous end to my first R1S. I decided there's hope for a conference that can bring so much talent to one place at one time. There are obvious growing pains with any event like this: I'm told that some logistics were horrendous -- shuttle buses failing to appear, bands canceling at the last moment, and the like. We stayed in one club each night, so we didn't experience much of this and I can't really comment on it. I enjoyed myself thoroughly and will definitely be back next year.
Submitted by Joel Eisen
---
---
Dave Alvin, Syracuse NY, 2Mar97
Dave did an acoustic show at Happy Endings in Syracuse NY on Sunday, March 2nd, which I attended with several of my friends. It was the inaugural show for this room and it sold out - a good sign for Dave and Happy Endings. His warm-up act was Kelly Joe Phelps, who also sat in for the second half of Dave's set. I thought they complimented each other very well - Kelly Joe with a truly unique and entrancing slide guitar style and Dave with his powerful songs and voice. Both were very relaxed between songs, Dave being more of the tale telling type and Kelly Joe offering a wickedly bent sense of humor. (They joked about the difference between their performing styles - Kelly Joe being very animated while Dave is more stationary.) All together, the show had a great balance to it.

Kelly Joe's warm-up set ran about 80 minutes. He started out on acoustic 6-string and switched to acoustic slide which he played on his lap. The songs were all in a blues/gospel vein with great references to some hymns I remember from my church-going days. Guitar players in the audience were on the edge of their seats, and I found myself at times absolutely entranced by his performance. I liked his vocals a lot but found myself ready for Dave's more compact and literary songs by the end of the set. Kelly Joe did one encore, on slide as per the audience's overwhelming preference.

Dave was great. His voice was stronger than I had anticipated in this setting (this was my first chance to see him do a show), and his guitar playing was certainly more than just accompaniment. At about an hour and 40 minutes his set was a bit short for me, but I had been waiting a long time to see him (been a fan since his pre- solo/Blasters days). Of course, he did some of his best songs - 4th of July, Border Radio, Dry River, King of California, etc. plus a Merl Haggard cover (from the Tulare Dust album) and couple of standards at the end, including You Are My Sunshine. The high point for me was Wanda and Duane, which I had not at all expected at an acoustic show, during which he interspersed commentary with the verses. (I happen to be in a local band that has been doing that song for several years and my partner and I were most pleased to hear Dave do it live.) And a quietly effective Border Radio with Kelly Joe accompanying was very beautiful. Dave stretched a couple of songs to allow Kelly Joe room to work, creating some wonderful guitar interplay. While the two of them were clearly still getting acquainted with playing together, the loose feel that was there that night was a lot of fun for me.

I hung around after the show to get Dave to sign my copy of his book of poetry (which I enjoy easily as much as his songs). He obliged and went on his way. I certainly will be watching for any shows he may do in the future within driving distance and am anxious to see him with his band someday. As he mentioned at the beginning of his set, this was his first ever stop in Syracuse. I hope it was a good one for him and that he'll be inclined to stop back someday. There are a lot of us here who would very much welcome that. Thanks for this one, Dave.
Submitted by Wayne Stevens
---
About a month ago I went to our local blues club here in my hometown of St. Louis. I had heard that one of my favorite bands, a midwest band called "The Bel Aires" were in town, and they always play at "Off Broadway." When I got to the club, I found out that it wasn't the "Bel Aires", but the "Guilty Men".....I was a bit disappointed, not knowing who the Guilty Men were, but being a huge Blaster's fan from way back. I was sitting at the bar and noticed a familiar guy next to me....Dave Alvin!!! I was a little stunned until the guy on the other side of me told me that it was Dave's new band, the Guilty Men I was going to see that night.....Needless to say, Dave rocked the place, playing basically the entire set from "Interstate Highway" and a couple more (sadly no Marie Marie though :(...) I got to shake his hand though......Dave, thanks for the great time!
---
I was lucky enough to catch Dave Alvin live at The House of Blues gig in Cambridge, MA this October. For those of you that are fortunate enough to live in California where Dave plays regularly the finish may have worn off, but as a Mass. resident whose only seen him twice, I have to say the show was amazing! Dave was spurred on by a guy who's name I can't remember that was in the front row. Apparently he was on the Tennessee Border album and came up to Cambridge from Providence to see the show and in all the circus that surrounds getting ready for a show, Dave managed to forget to put this guy and his wife on the guest list. He apologized for the oversight onstage and also told the guy that it's hard playing guitar in front of him onstage all night knowing that he could do it better!

Amazing show as I expected, even a reference to the late great Country Dick when Dave added a new twist to Romeo's Escape to include him as a character in the tune.

Rick Solem has got to be one of the best honky-tonkin' piano players around! Man, what a sound...

That's it, except to say that if anyone out there has any DA live tapes or videos I'd love to hear about them. Drop me a line!

Rock on!
---
Dave Alvin & the Guilty Men played the Handlebar Listening Room in Greenville, SC on Friday, October 18th. The Handlebar is an intimate, smoke-free venue that holds about 300 people. Many national touring acts play there. In fact, Dave noted that he had previously played the Handlebar exactly two years earlier.

Prior to this show, I was at best, a casual Dave Alvin fan. I was familiar with Fourth of July, Every Night About This Time , and Marie, Marie. However, I did not own any Dave Alvin records.

My wife Janet and I are 41 and 40, respectively, but still attend 50-75 live shows a year. Prior to this show, I checked out Dave's web page and noted that he allowed his shows to be taped. I brought my analog deck along, made the necessary arrangements and settled in for the show.

The Pinetops opened. They are a four-piece band from North Carolina, and had been touring with Dave. They played a good enough 45 minute set for me to ask about any available recorded product. They were so new that they do not have anything out yet.

Dave & the Guilty Men went on at 10:00 pm and began with 35 minutes of Dave on acoustic guitar. From that point on, he put down the acoustic, picked up his yellow Strat with the red pick guard, turned up his amp, and never looked back.

In all, he played over 2 and 1/2 hours, all of which I have on tape. This was truly a phenomenal show, brilliantly paced, and suitably diverse, with blues, R&B, cajun, rockabilly, folk, and straightforward rock and roll moods. The crowd was deeply appreciative, asking him back for two encores.

I can't provide a set list here, because I'm embarassed to say, I don't know all of these songs yet. But I will. The next day I went out and bought Interstate City, and am on a mission to acquire the rest of Dave's solo catalog, not to mention his Blasters material.

Anyway, the tape is pretty good. Because of the relatively small room and the loudness of the guitars, the guitars were not mixed through the soundboard. As a result, Dave's guitar is not as high in the mix as I would have preferred. Still it is a more than listenable keepsake of a truly magic night.

Anyway, I just wanted to say that there are two more die-hard Dave Alvin fans here in South Carolina. I would be more than happy to trade copies of the Handlebar show for copies of other Dave Alvin shows if anyone is interested.
---
Just wanted to let you know that the Dave Alvin Show at Lynagh's in Lexington, KY was everything I had hoped it would be. After years of being without anything new from the Blasters it was great to hear some "American Music" that really rocked. Especially enjoyed Jubilee Train, Marie, Marie and Dave's graceful, soulful rendition of Border Radio.

We all hope that Dave had a great time also, even tho Lynagh's is a small club. Looking forward to another appearance soon in Lexington.

Keep up the good work.
Posted by an anonymous reader.
---
American Music: it's not just the name of one of Dave Alvin's barnburning songs, but it's all that Alvin does. He sings about average working Americans, in American cities, doing American things with a rootsy musical heart that beats with red American blood.

Interstate City, his fifth solo album since leaving his brother Phil behind in The Blasters is also his first live one. Like his songs, it's imbued with the honesty, soul and sweat of a classic American musician who's honed his craft in front of hundreds of audiences in as many cities. Recorded with his longtime backing band The Guilty Men, who follow and accent his every twist and nuance, IC avoids the typical "here's the hits with applause" live album syndrome by choosing songs that have grown and mutated significantly from years of being road tested. The versions we hear of Alvin's older tunes are radically different than the ones we're familiar with. Long White Cadillac, a hit for Dwight Yoakam [and perfomed earlier by the Blasters: ed], starts out as an ominous blues, kicks into high gear, gives Alvin's pianist a chance to strut his stuff, and lets Alvin cut loose with a blistering string burning solo. Alvin's explosive vocals and gritty eight minute performance add volumes to the three minute original. A version of the Blasters Jubilee Train segues seemlessly into Woody Guthrie's Do Re Me then transforms into Chuck Berry's Promised Land. Sort of a short history of American music packed into nine magnificent minutes.

In addition we get six previously unrecorded tunes that follow thematically along with the "road" songs here that seem to focus on Americans as Alvin says "searching for something they lost, or never had to begin with". Alvin's razor sharp lyrics, lead guitar and gruff everyman vocals never overshadow the band who, as they follow Dave through his mix of folk, country, blues, soul, and rock and roll, respond with such loose precision that it seems like all five men are thinking with one head.

Here for once is a live album that works in all the ways a great live album should. Passionate music, played for all it's worth in front of an audience, the way it was meant to be. You can almost smell the beer, cigarettes, and greasy bar food through the grooves.

American music played by one of the best American singer/songwriters of our generation. Makes you proud to be an American damnit!
---
Dave Records Live Album in Austin TX
May 31, 1996, Continental Club/Austin Texas

I caught Dave last night at the first night recording of the new live disc at the Continental Club in Austin. He had Ted Roddy and Katy Moffatt helping him out along with Greg Liesz and the rest. Good show but the tuning between songs kinda threw it off balance. Great re-workings of "Dry River" (little shuffle rhythm to ligthen it up) and "Fourth Of July" (which really rocked at the end). Surprised us with a rocking version of "Marie Marie" to close the set. He did do a few new songs (i.e. "Interstate City" which I think will be the name of the disc) and his version of "Out In California" that was originally on Tom Russell's disc. The band was in fine form although Dave kidded that he blew 3 songs but the band was perfect hence the need for 2 nights. I will probably pass on tonight's taping since I was satisfied with one. He did mention that he is at work with a new acoustic disc but needed this one for Hightone to satisfy the "electric fans". Disc is due out in late July since they want to hurry it out pretty fast.
---
Hightone
Records Roadhouse Revival Feb. 21, 1996, Variety Playhouse/Atlanta Georgia

When even a singing pig isn't the unforgettable highlight of an evening , then you know we've got one wild night here. West Coast based Hightone Records, in the tradition of the old Motown and Stax reviews, trundled up 5 of their best acts, put 'em in front of an incredible band, gave 'em about 40 minute sets, and let 'em loose for 30 gigs in 30 days. If anything could turn the Variety Playhouse into a greasy honky tonkin' venue on the order of the Star Bar, this was the gang to pull it off.

Rev. Billy C. Wirtz kick-started the night, working his typical solo schtick of back woods preacher inspired rapid fire topical jokes, interspersed with piano pounding boogie woogie rockers and the aforementioned special appearance by his pet singing pig (Little Willy). Irreverent, topical, and occasionally hysterical, Wirtz continued to pop up as MC for the rest of the night.

Buddy Miller, moseyed out next, and with the assistance of Dave Alvin's aggressive band, belted out crackling renditions of his mid-tempo edgy country weepers. Miller's low key stage presence and powerful vocals seemlessly meshed with Alvin's band to create rougher versions of his introspective songs. With only two minutes between acts, Dale Watson bounded on stage. His youthful, dark, chiseled, sexy James Dean features, and classic deep Twitty, Elvis blended vocals immediately had the cowboy/girl crowd up and twirling as he unleashed non-stop twangy honky tonkin' fun. Again, Alvin's band locked in behind him, and egged Watson into rougher territory than his tamer recorded renditions of these songs would suggest.

A short intermission before Big Sandy and His Fly Rite Boys, the only self contained band of the night, slid into their effortless Bob Wills country swing groove. With pedal steel pumpin', Big Sandy's high pitched vocals, and their classic cowboy outfits, we were transported back to some dusty Texas bar 50 years ago. I looked around and EVERYONE was grinning.

Brief break again, then Alvin and his Guilty Men 3 piece charged through an all too brief hour of Blasters and solo material. Musically tougher, and harder rockin' than the previous bands, Alvin's emotional take-no-prisoners approach steamrolled over an already pumped up crowd. A short but unbelievably intense set.

What an incredible night of rock n' roll, swing, honky tonk, country and camaraderie. It was especially wonderful to watch the Hightone artists enjoying and encouraging each others performances from stage left. By the end of this amazing evening of music, I had even forgotten about the singing pig.

reviewed by Hal Horowitz, Atlanta GA, Hal2222@aol.com
---

Return to Dave Alvin Page.

Return to Blasters page.

Return to Scot's page.
---
Last modified 16Jan01.

Dave Alvin Reviews/Questions/Comments